Run an outstanding hackathon to
attract and hire top tech talent.
Leading platform to run online and in-person hackathons.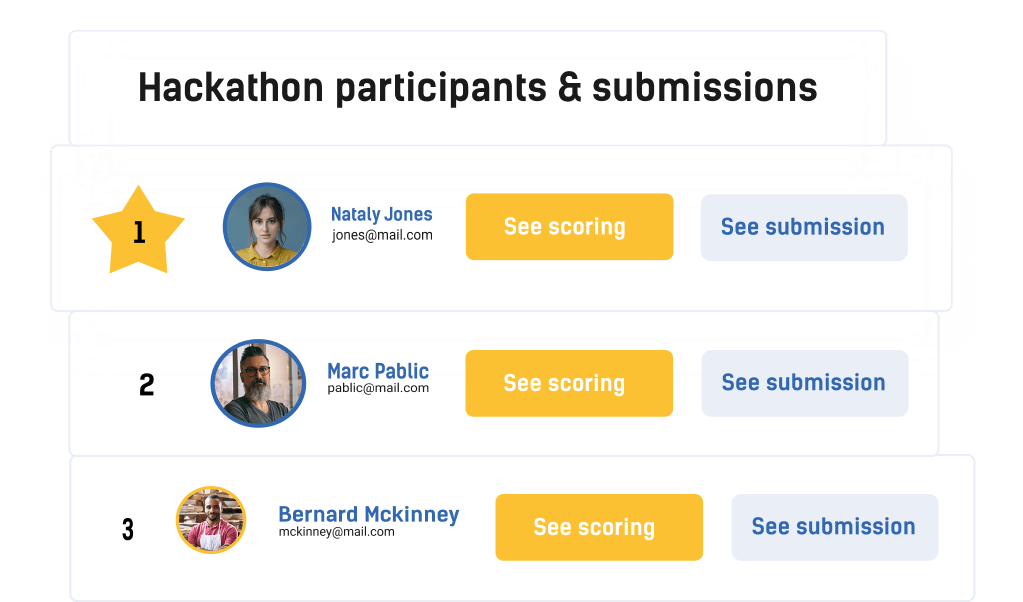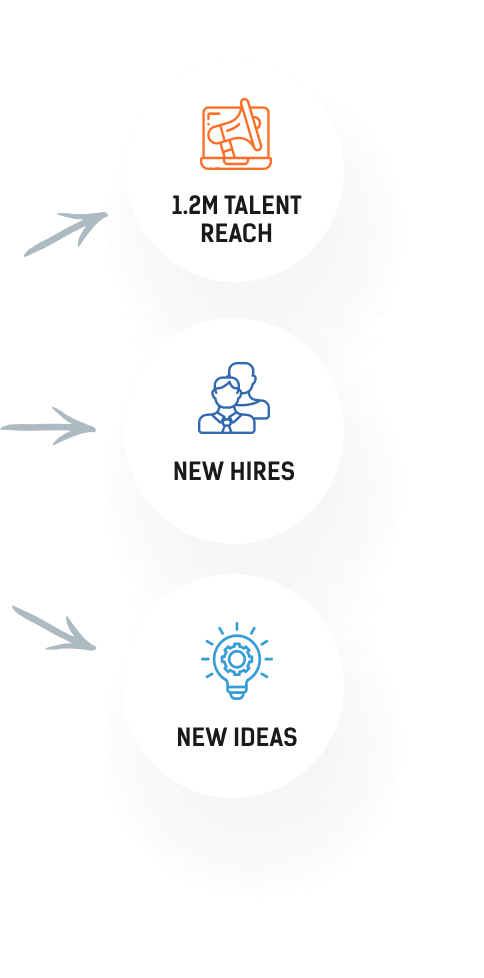 We run hackathons & challenges for Fortune 500 brands worldwide
We create immersive
hackathon experiences
Platform + service model.
Our unique process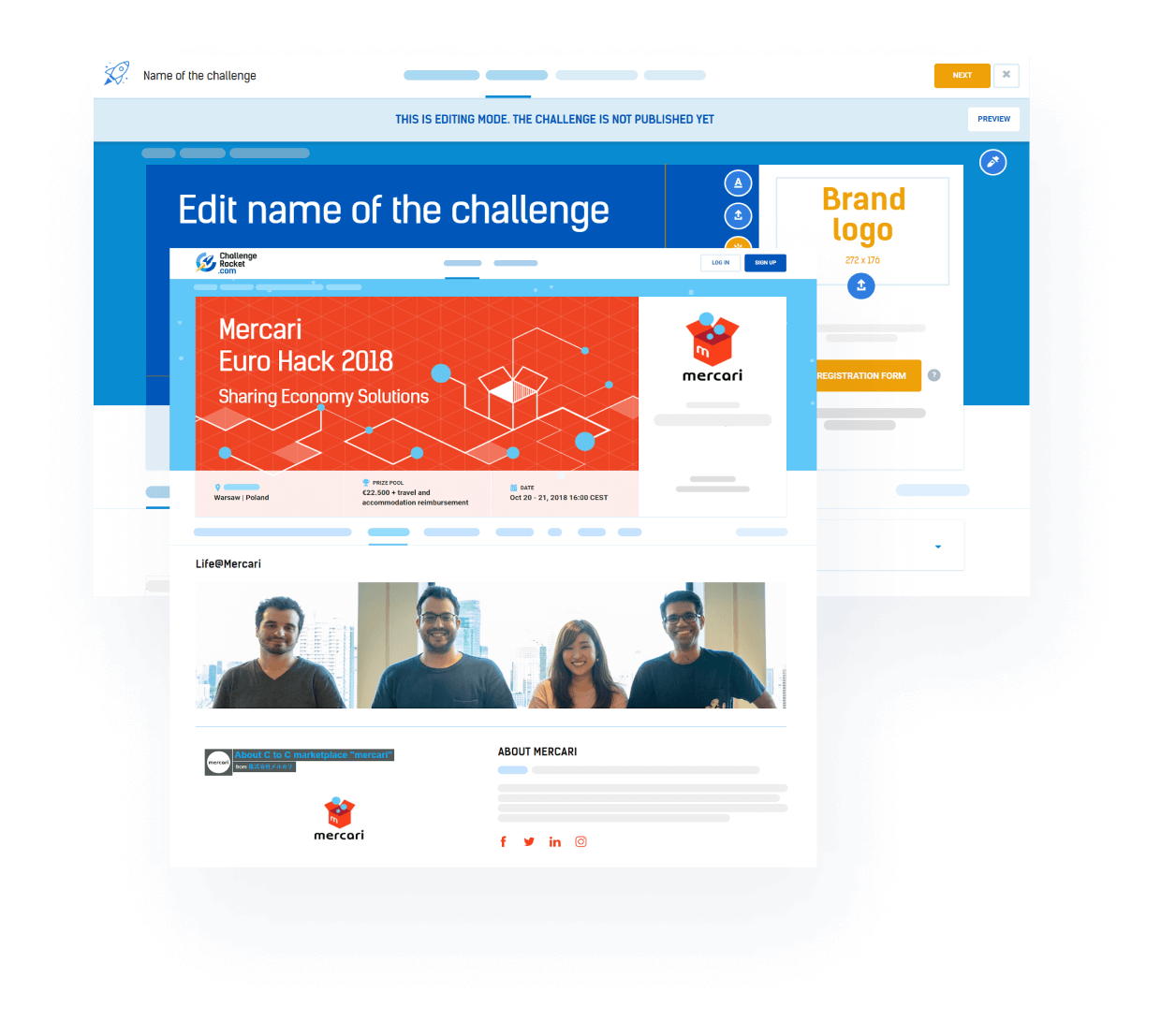 Branded Hackathon Portal
to promote your challenge
Announce your hackathon to the world.

We'll do the setup and will help in talent
outreach in our network of 1,2M.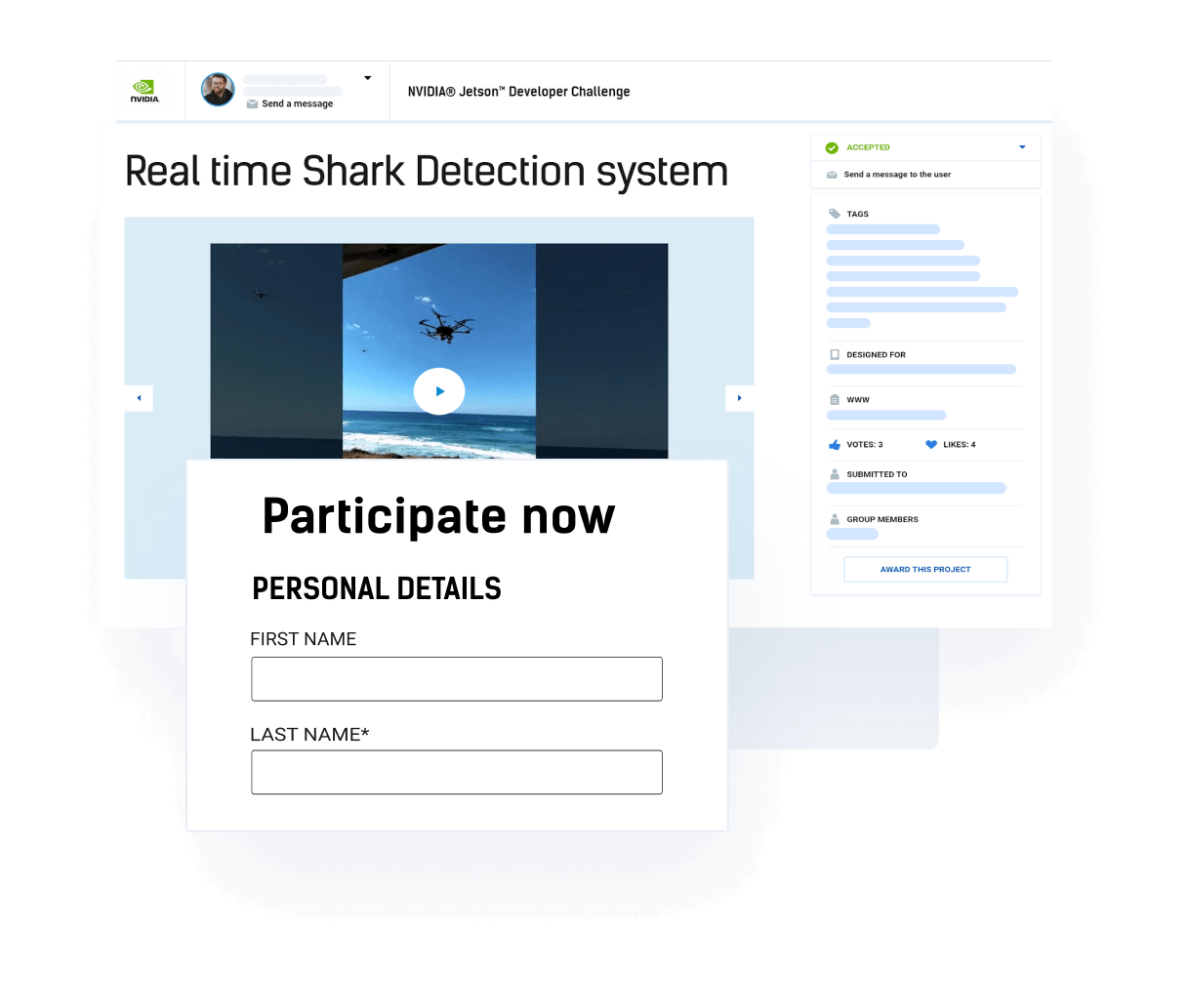 Customized registration
& work submission process
Monitor users progress.
Manage & moderate team submissions.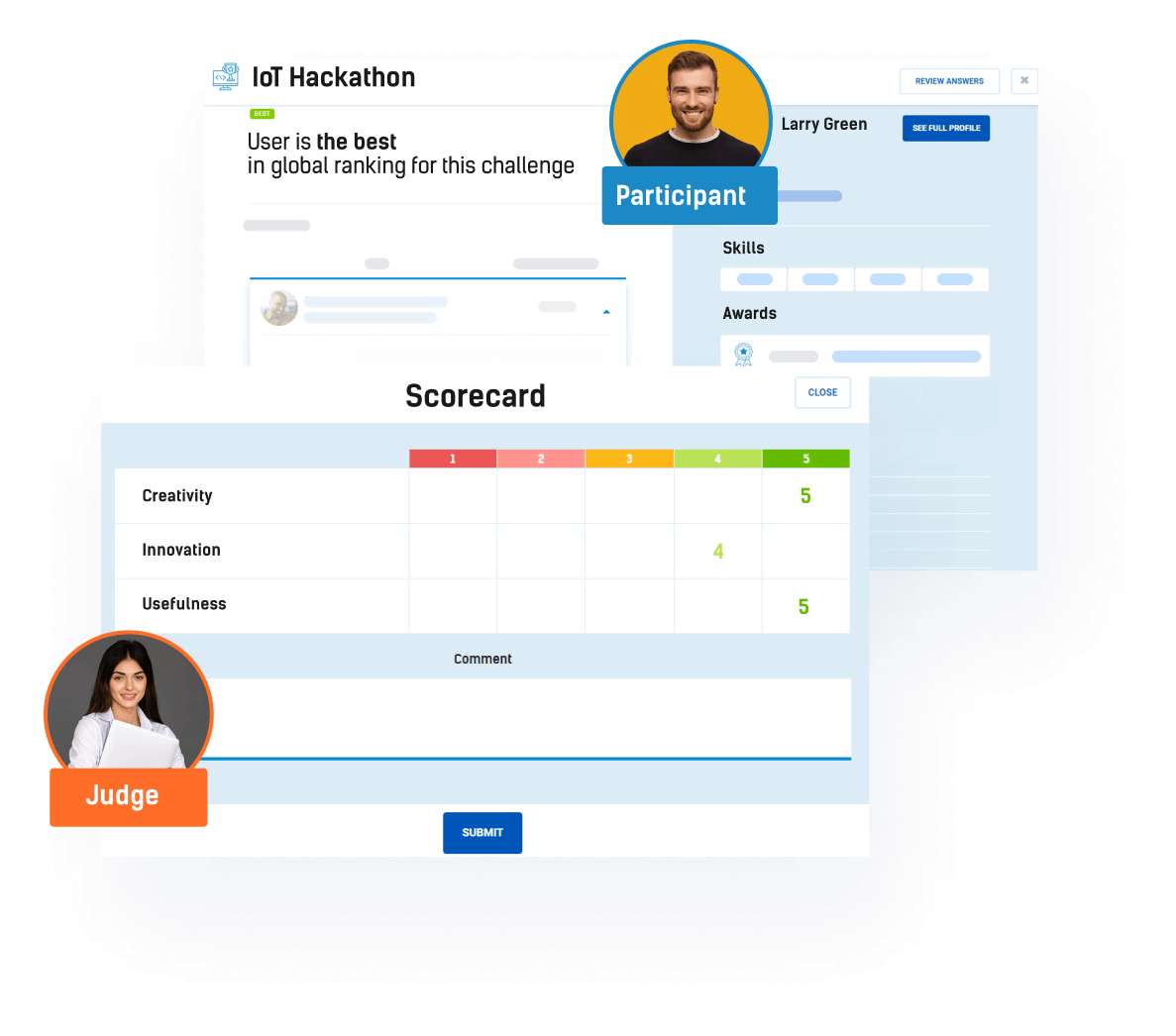 Clear and Orderly
Evaluation Process
We facilitate judging & follow-ups.
Alerts & notifications.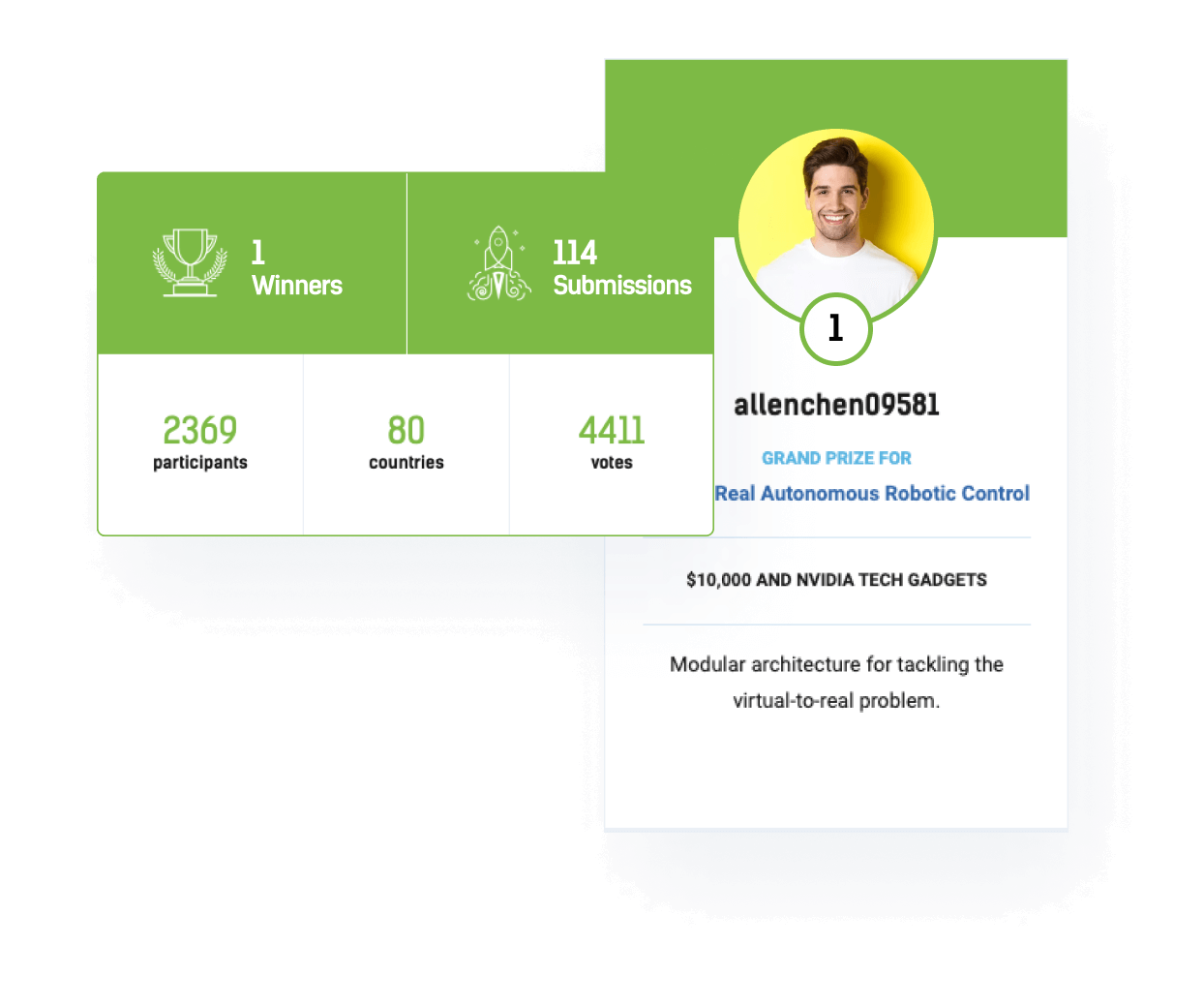 Showcasing Winners
and Their Entries
Public leaderboard.
Dedicated page to showcase winners.
Case-Study - NVIDIA Global Online
Hackathon
ChallengeRocket Scope:
Creative Idea
Dedicated Hackathon Portal
Global Promotion
Client:
NVIDIA is a global AI company manufacturing graphics processors, and desktop computers.
Goals:
Engage top AI engineers worldwide, tech evangelism, recruitment.
Attendees:
2369
each submission represented unique robotic project leveraging NVIDIA tech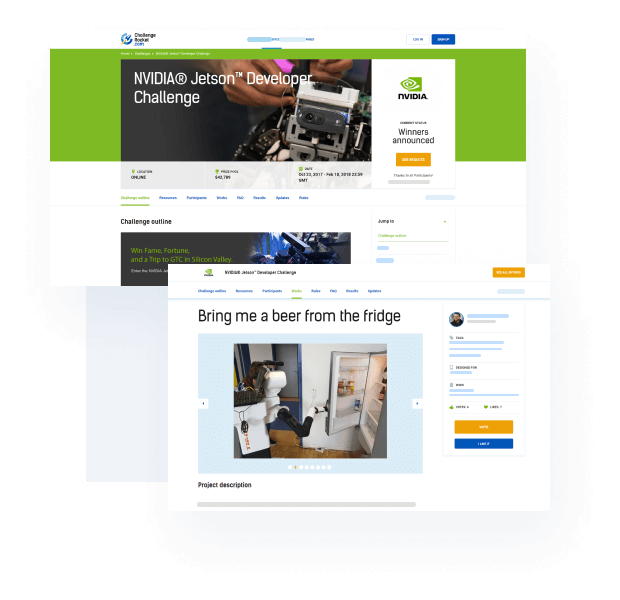 Case-Study - Mercari Onsite
Hackathon
ChallengeRocket Scope:
Creative Idea
Dedicated Hackathon Portal
Global Promotion
Onsite event
Client:
Leading Japanese e-commerce platform. Their app is the largest community-powered marketplace that brings together millions of people every day.
Goals:
Introduce and promote Mercari brand in Europe, and find and assess skills of the best developers in this region.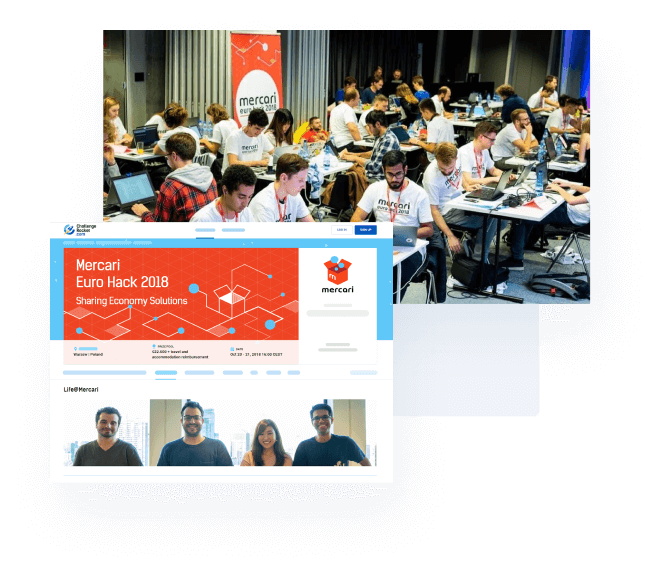 Case-Study - AccorHotels Onsite
Hackathon
ChallengeRocket Scope:
Creative Idea
Dedicated Hackathon Portal
Global Promotion
Onsite event
Client:
AccorHotels is the largest hospitality company in Europe, that owns hotels, resorts and vacation properties
Goals:
Reach a very specialized group - engineers specializing in bathroom tech. Engage them to join onsite event.
Results:
Broad campaign with a European reach resulted in 40 shortlisted participants and 3 projects that qualified to the final round and got prizes.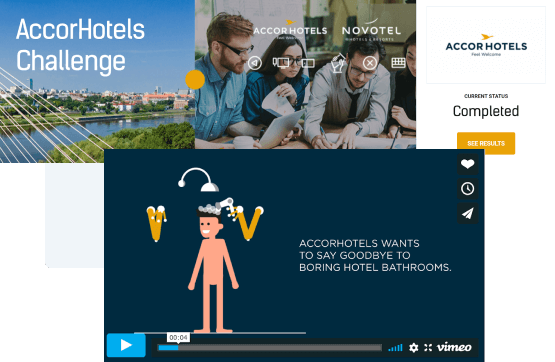 End-to-end hackathon service
We design creative hackathon themes to engage great talent
We help create hackathon events that will convert to new hires and generate new cool ideas.
We deploy your own Branded Hackathon Portal
It's one place to streamline communication between all hackathon stakeholders - participants, organizers, judges.
We promote your hackathon. Our global outreach (>1.2M)
We help you to reach bigger audience and attract more talented individuals.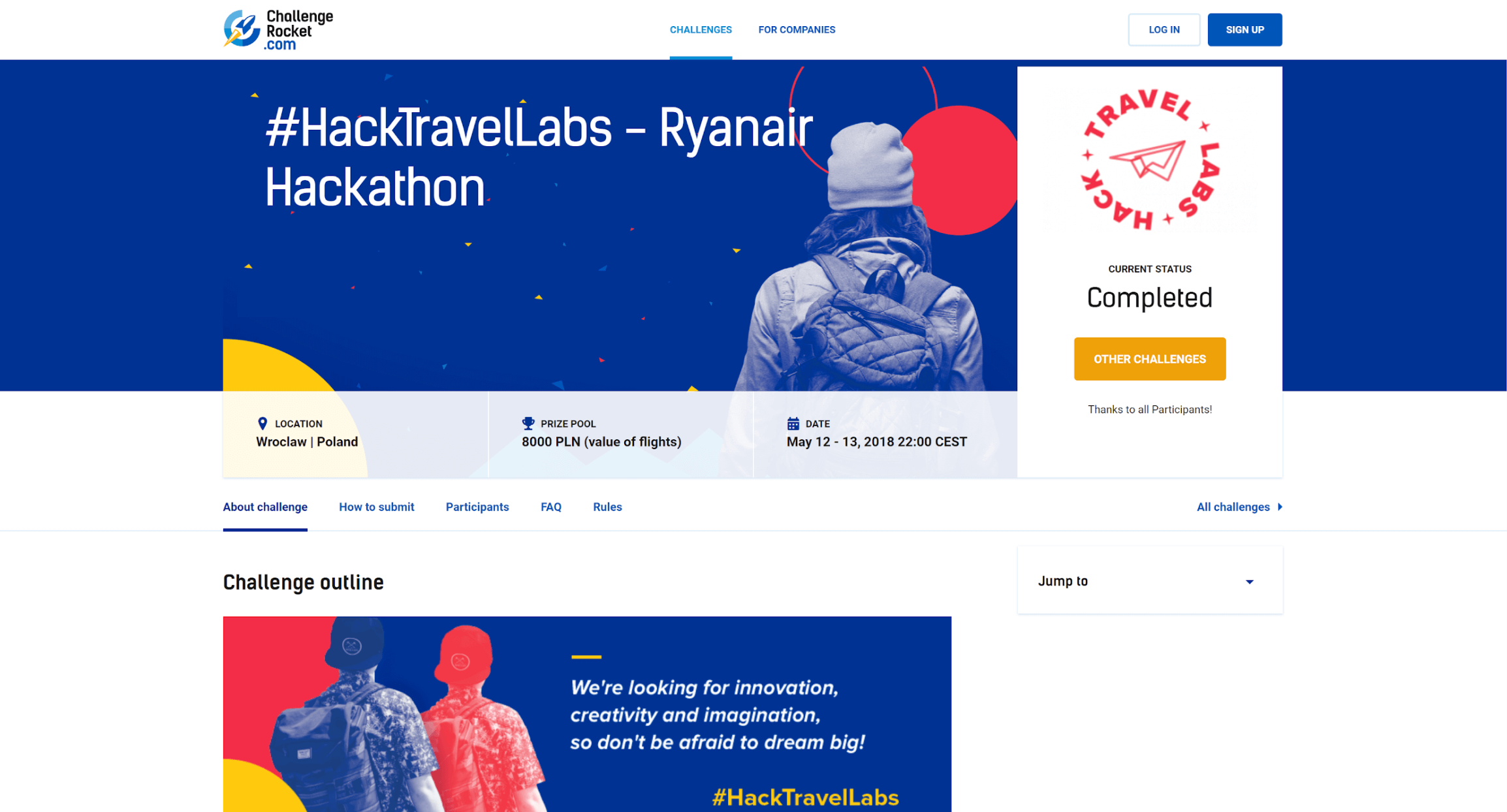 Most comprehensive
hackathon management platform
One place to manage all hackathon activities.
Hackathon updates
Manage participants signups
Monitor users progress
Team submissions
Moderate entries
Manage judging process
Manage participants feedback
Customized alerts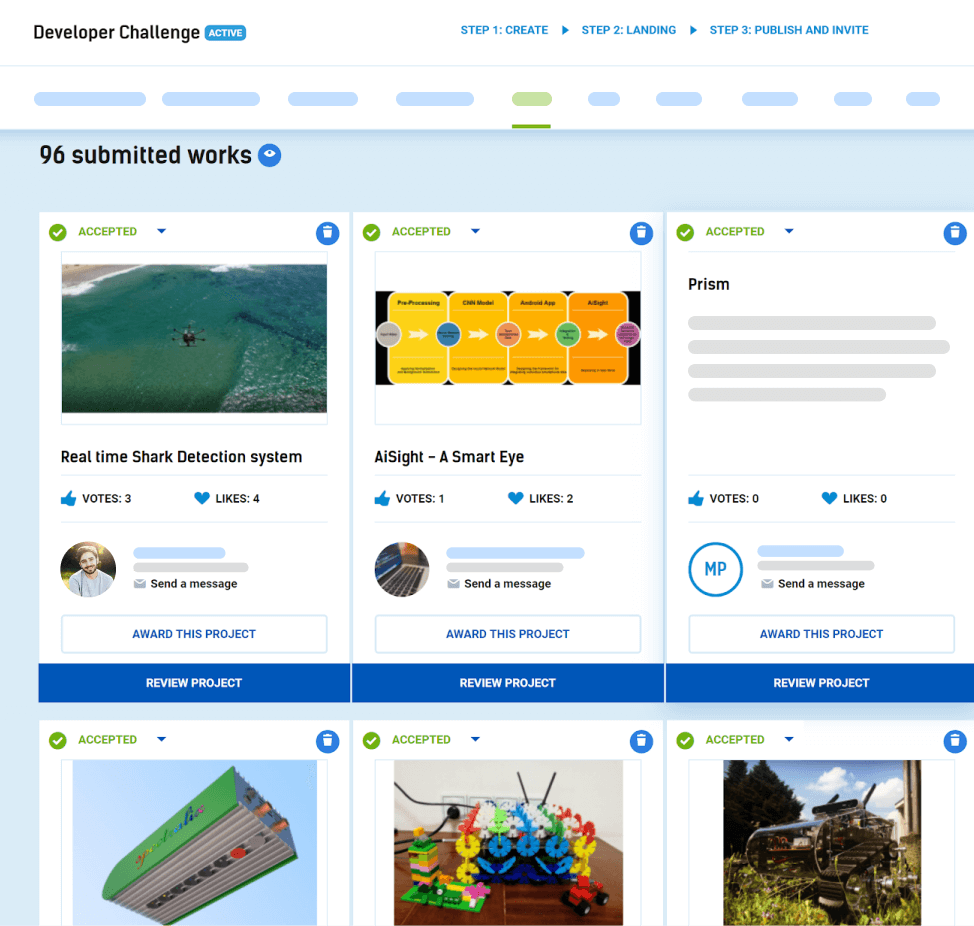 Top experience for participants,
mentors & judges
Provide your participants with level of experience they probably
have never had with any other hackathon!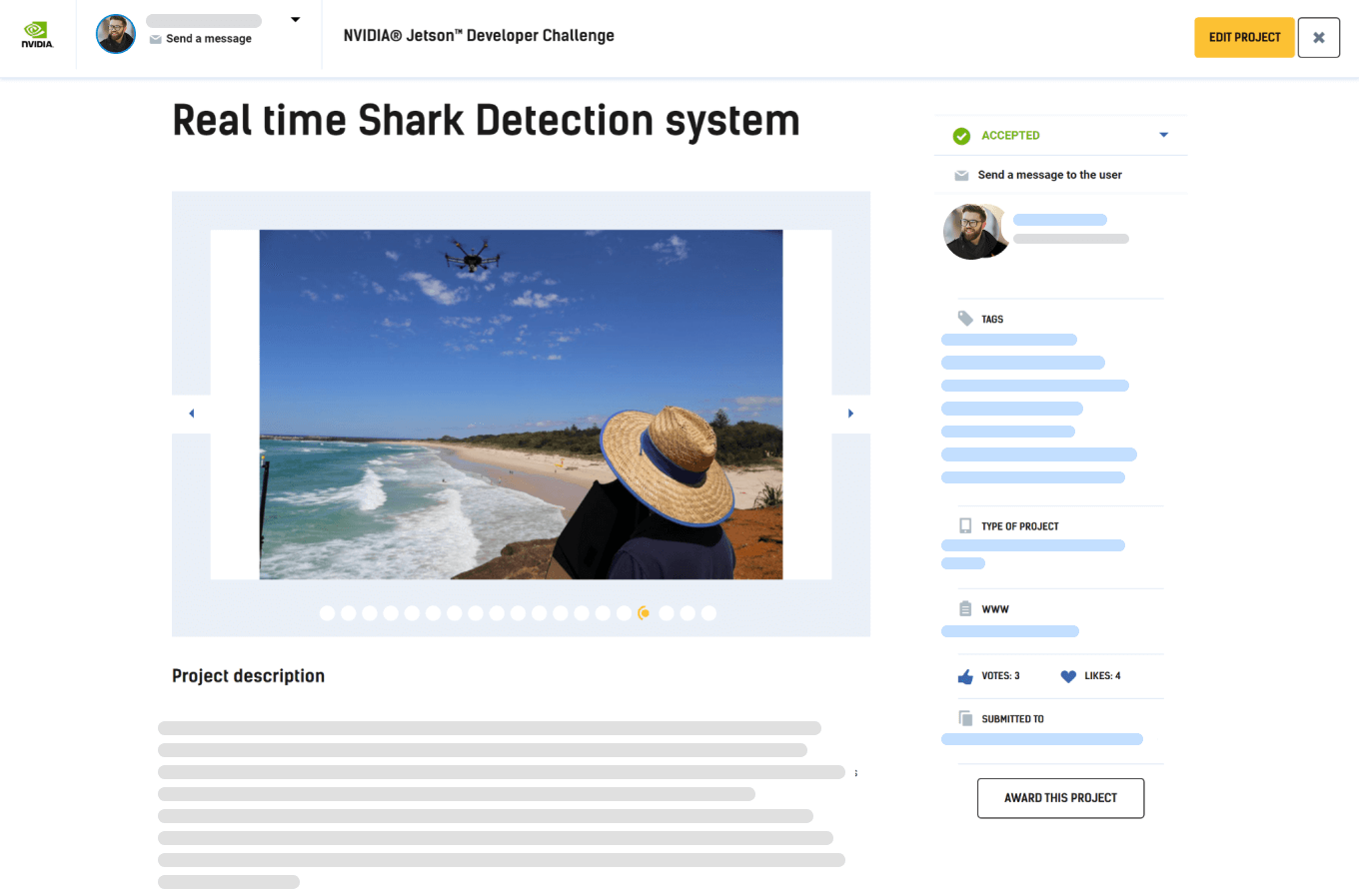 Participants submit creative works (source codes, videos, documentation)
Easily moderate hackathon submissions
See & contact teams behind the projects
Manage judging process, public voting and awards
Creative works submissions
Moderate submissions
Communicate with participants
Manage judging, public voting & awards
ChallengeRocket in numbers
100K+
outreach
in our network
1 MLN+
social media
campaign outreach
2-5
average hires
per project
Novel recruitment solution.
Loved by companies and candidates
The most valuable aspect of the event was connecting with many individuals. Not just students, but also professionals.
When it comes to taking part in hackathons, it is always worth it, even if you don't succeed. There is always a chance of winning, no matter how slim and it always pays off to suffer from the pain of defeat rather than the pain of regret.
Challenges are a great way to connect to hidden talent and candidates who may not participate in traditional recruitment processes.
Make it a memorable experience.
Whether it's an online or onsite hackathon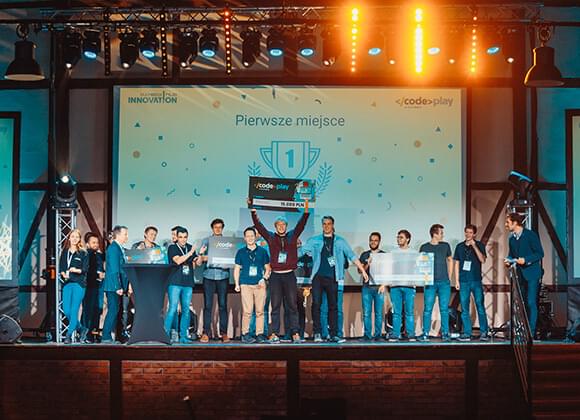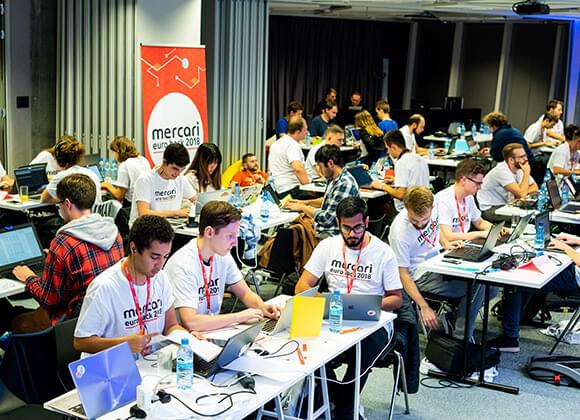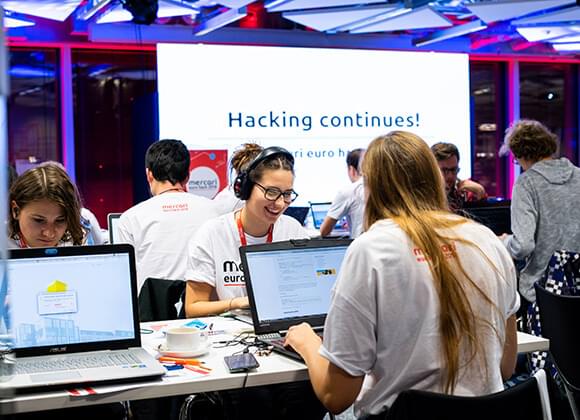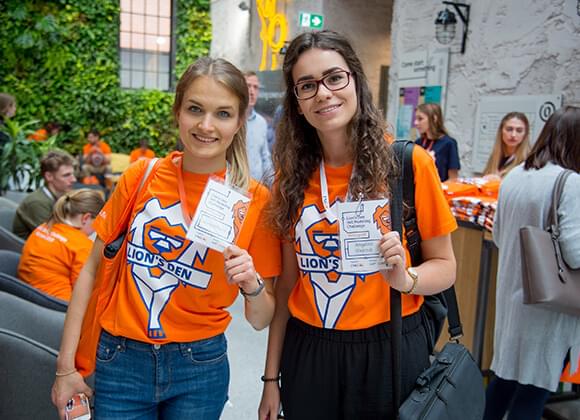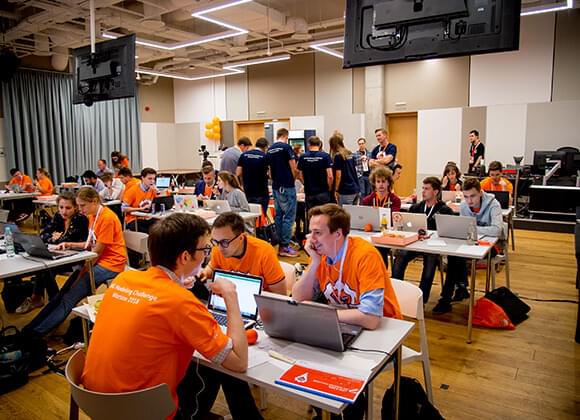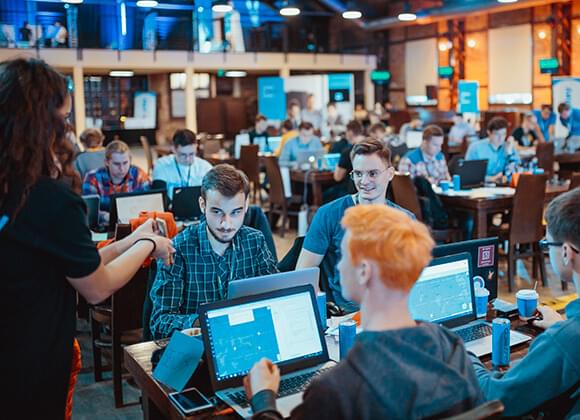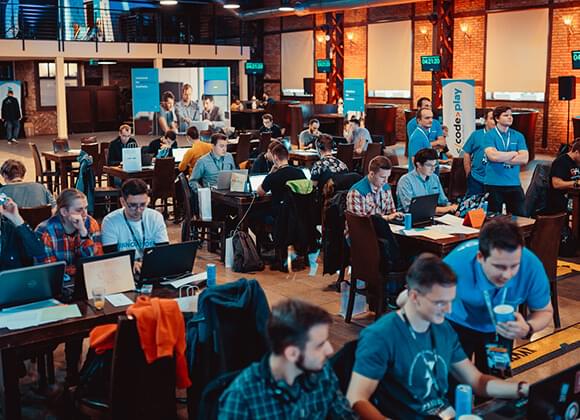 Platform + service model
Hackathon platform
END-TO-END HACKATHON MANAGEMENT
Branded hackathon landing
Custom registration for participants
Managing submissions
Judging and scoring
Winner announcement
PLATFORM PRICING
from 1,000 USD / mo
I want custom pricing
Organization & promotion
We design Hackathons loved by developers
Creative hackathon theme
Promotion
Onsite organization
Judging
Follow-up
Custom Pricing
Contact us for details
I WANT CUSTOM PRICING
Let's talk
In view of your consent, the data you provide will be used by ChallengeRocket Sp. z o.o. based in Rzeszów (address: Pl. Wolności 13/2, 35-073, +48 695 520 111, office@challengerocket.com) to send messages as part of the newsletter subscription. Don't worry, only us and the entities that support us in our activities will have access to data. All information on data processing and your rights can be obtained by contacting us or at www.challengerocket.com in the
Privacy Policy
tab.
Proven effectiveness
Up to x3 more candidates
and shorter recruitment time
FAQ
Below you will find answers to the most frequently asked questions.
Fundamentals
What is a hackathon?

A hackathon is a get-together of tech enthusiasts, where they work on creating specific projects or solving challenges often related to coding, software or hardware development. It's a collaborative and competitive event at the same time. Hackathons can be onsite, virtual or hybrid.

What's an open hackathon?

An open hackathon is an event that's open to anyone who wants to participate, regardless of whether they work for the hosting company or not. While pre-selection processes may still apply, anyone can register for the event.
Tip: When setting up an open hackathon on our platform, customization of the registration form is possible to gather information to help select the right participants.

What are the goals of open hackathons?

Typically goals of the open hackathon include:

promoting employer brand and culture
identifying new candidates
building & engaging talent pools for present and future hires
crowdsourcing new ideas
fostering open innovation and collaboration
generating new solutions

What's an internal hackathon?

An internal hackathon is a hackathon that's not announced to the public and is limited to a specific group like a company or a specific department in your company. These events are designed to bring people from the same organization together to work on projects and solve problems in a new collaborative setting.

Example:
A tech company might host an internal hackathon for their employees to work on specific new features for their products to get more diverse ideas.

Fun fact:
The original Facebook "like" button was designed during the company's internal hackathon (yes, back in the days there used to be a version of Facebook without like buttons! Can you imagine?)

What's a recruitment hackathon?

A recruitment hackathon is a type of event where companies use a hackathon format to grow their talent pool. Organizer's goal is usually to identify and recruit talented individuals that might not be available otherwise.
Actually most of the hackathons ChallengeRocket helps to run serve the purpose of promoting employers and generating new hires.

Who attends hackathons?

Hackathons attract a wide range of individuals, including developers, designers, data scientists, analysts, innovators, entrepreneurs, and other tech enthusiasts interested in collaborating on projects and solving complex problems.

Hackathon participants can be students, professionals, or just someone who loves engineering challenges and hacking on projects!
Organizing online and onsite hackathons
What are the types of hackathons?

Hackathons can be categorized by various factors, such as the duration of the event, organization form (onsite or in-person hackathon, virtual/online hackathon, hybrid hackathon), the subject matter or theme, the level of experience required, the target audience and the purpose (i.e. recruitment hackathon, open innovation hackathon, tech evangelism hackathon).

How is recruitment hackathon different from other types of hackathons?

When we run a recruitment-oriented hackathon for our clients we typically apply a specific approach. We design such a hackathon in a way that it's possible to showcase the company's work, culture, and values, and provide opportunities for candidates to showcase their skills and creativity in the areas that the company is hiring.

Such events have allowed our clients to identify new talent, form relationships with potential candidates as well as get insights into their practical skills.If executed properly, a hackathon can be a great way to connect with diverse groups of talent including those with non-traditional backgrounds that could be easily unnoticed otherwise.

What is an online / virtual hackathon?

A virtual hackathon is an event where participants work remotely, using online tools like ChallengeRocket hackathon platform to communicate/collaborate on projects and solve problems.

What is an onsite hackathon?

An onsite hackathon is an event where participants gather in a physical location to collaborate on projects and solve problems in person.

What are pros and cons of onsite hackathons?

Good things about onsite hackathons include opportunities for face-to-face collaboration, access to physical resources and amenities, and the potential for more immersive and engaging experiences.

Cons can include higher costs, logistical challenges, and limited access for remote participants.

Tip: you may consider those two forms and apply a hybrid hackathon format. It worked very well for some of our clients!


What are pros and cons of virtual hackathons?

tl;dr; It's easier and cheaper and people can join from everywhere. But it might be harder to talk to people in person and promote your employer brand.

Virtual hackathons are cool because you can participate from anywhere! Pros include increased accessibility for remote participants, flexibility and convenience as well as reduced costs and logistical challenges.

Cons can include limited opportunities for face-to-face collaboration and potential technical issues or connectivity problems.

Tip: you may consider those two forms and apply a hybrid hackathon format. It worked very well for some of our clients!

How long are hackathons?

Hackathons can vary in length, from as short as 1 hour to as long as several days, depending on the goals and objectives of the event. Depending on the event type, audience and budget available we advise on the optimal length of the event.

Should I organize a hackathon myself or hire a professional company?

First it's important to say that our answer is not fully unbiased here since we offer professional hackathon organization services. We'll try to do our best to give you the comprehensive answer here.

Deciding whether to organize a hackathon yourself or hire a professional company will depend on various factors such as your resources, expertise, goals, the size and complexity of the hackathon, and most of all your ability to reach and attract a target group.

It may be relatively easy to organize all hackathon logistics. It's more difficult to attract a bigger crowd.

Organizing a hackathon yourself can be a good option if:

you have access to your target group,
you have some prior experience with hackathon event planning,
there's a team at your disposal with the necessary skills to handle the technical aspects of the hackathon.

It can also be a more cost-effective option if you have a limited budget.

However, organizing a hackathon can be a complex and time-consuming process, and there are many logistical and technical challenges that need to be addressed, such as venue selection, marketing, registration, sponsorships, and technical support. If you don't have the expertise or resources to handle these aspects, it can be challenging to organize a successful hackathon - especially if you're doing it for the first time.

In some cases it may also be a reasonable solution to do some work yourself (i.e. onsite organization) while still relying on platforms like ChallengeRocket to manage the process and/or leverage our talent network to reach more specialists.

It's always good to consider all of your options carefully, and choose the one that best suits your needs and budget.

What are some common misconceptions about hackathons?

Some common misconceptions about hackathons include the belief that they are only for experienced programmers, or that they are all about competition and winning prizes. In reality, hackathons can be inclusive and welcoming to people of all skill levels and backgrounds, and they can be focused on collaborative problem-solving and innovation rather than competition.

How can I promote diversity and inclusivity at my hackathon?

To promote diversity and inclusivity at your hackathon, you can establish clear guidelines and expectations, provide access to resources for participants with different backgrounds and abilities, and actively seek out and promote participation from underrepresented groups.

What are some best practices for team formation at hackathons?

Best practices for team formation at hackathons include encouraging participants to form teams based on shared interests and skills, providing opportunities for networking and team-building, and providing resources and support for teams throughout the event. For example, you can organize a networking session where participants can meet each other and form teams based on their interests and skills.
Promotion, motivation and awards
Why do people attend hackathons?

We have had extensive discussions with previous participants of hackathons powered by ChallengeRocket to gain a better understanding of their motivations. They have cited various benefits that they find valuable, and it is not solely focused on the prizes.

Firstly, it's about connections! Hackathons allow individuals to connect with like-minded people who share their passion for technology and innovation. It's a very unique and valuable thing for most of the participants.
Additionally, hackathons can provide participants a platform to meet with companies who may be looking for fresh talent. It's a chance to meet those companies, meet their engineers directly, and talk about technical aspects of their projects. It's a great way to acquire information you would get from the company website or a job ad. Finally those encounters can lead to potential job opportunities, partnerships, and collaborations.
Hackathons also provide opportunities for learning. Especially if participants can connect with quality experts and mentors who can provide guidance and feedback on their ideas. This can help them to improve their skills, knowledge, and understanding of the latest trends and technologies.
Finally another incentive for attending hackathons is the potential to gain recognition and win prizes. Many hackathons offer cash prizes, sponsorships, and other rewards for the most innovative or impactful ideas.

What's a good strategy for awarding hackathon participants?

One of our guiding principles when designing a hackathon is this one:

"If you look at history, innovation does not come just from giving people incentives; it comes from creating environments where their ideas can connect."

It should not be about monetary prizes in the first place. Hackathons should provide participants a valuable opportunity to gain recognition for their work.

Provide prizes that are relevant and valuable to the participants. Use clear and objective criteria, such as project outcomes, technical skill, and creativity.

How to promote hackathon and attract participants?

Promoting a hackathon and attracting participants requires a targeted marketing strategy that effectively communicates the value and benefits of participating in the event. Here are some suggestions for promoting your hackathon:

Define your target audience: identify the target audience for your hackathon, such as developers, designers, entrepreneurs, or students. Then, create messaging that speaks directly to their interests and needs.
Create engaging content: use visual and interactive content, such as infographics, videos, and blog posts, to educate your audience about the hackathon and generate interest.
Leverage social media. We use social media extensively ourselves to attract potential participants and increase visibility of our clients' hackathons. We also promote them in our own talent network - we send targeted emails to our existing database or those who have shown interest in similar events. We also use email campaigns to keep potential participants informed of updates and deadlines.
Offer incentives: offering incentives, such as prizes or recognition, can be also a powerful motivator for participants to join and compete.

Remember to start promoting your hackathon early and make it easy for potential participants to register and get involved.
Hackathon outcomes and follow-ups
What are some strategies for evaluating the success of a hackathon?

To evaluate the success of a hackathon, you can use a variety of metrics, such as participant feedback or project outcomes. Finally, tracking the number of candidates generated can be a key metric for evaluating the success of a hackathon, especially if the goal was to recruit talented individuals. By measuring the number of qualified candidates who were interested in joining your company, you can determine if the hackathon was a success in terms of building a strong talent pipeline for the future.

You can also conduct surveys and interviews with participants to get feedback on the event, and they can track project outcomes to see if they have met their goals.

How to follow up with participants after a hackathon?

Following up with participants after a hackathon is an important step in building long-term relationships, gathering feedback, and assessing the impact of the event. Here are some steps you may want to follow:

Send a thank-you message: the first step is to thank participants for their time and contributions. Send a personalized email to each participant, highlighting their contributions and expressing gratitude for their participation.
Gather feedback: encourage participants to provide feedback on the event. Ask them what they liked and didn't like, and what could be improved in future events. You can do this through a survey or a feedback form.
Share the results: share the results of the event on your own dedicated hackathon page that you can set up with our platform. Let participants know what was achieved during the hackathon, such as the number of projects completed, the number of attendees, and any other relevant metrics.
Stay in touch: keep in touch with participants by sharing updates about the hackathon, any follow-up events or opportunities, and any other relevant news. Use social media, newsletters, and other communication channels to keep participants engaged.
Show appreciation: finally, show appreciation to the participants by recognizing their contributions. For example, you can highlight their projects on social media or in a blog post, or offer prizes or other incentives for the best projects.
ChallengeRocket platform + service
How ChallengeRocket can help you to run a successful hackathon?

We can provide a software platform, expertise and resources, and end-to-end service in order to handle all aspects of the event, from planning to execution. We help with promotion and we can also provide technical support to ensure that the hackathon runs smoothly.

Our services fall into 3 basic categories:

dedicated hackathon platform for your hackathon (to manage all hackathon activities registration, work submission, moderation, judging, scoring, winner announcement etc.)
hackathon promotion (with global outreach of 1,2M talent worldwide we can give a wide exposure to your hackathon event)
running successful online or onsite hackathon (creative theme, organization, fun and engaging experience for participants)

What are the capabilities of the platform?

ChallengeRocket hackathon platform is a part of our suite of tools you can use to engage participants and manage all hackathon phases.

In particular you have full control of:

landing page & registration,
communication to users,
managing submissions,
moderation & judging,
leaderboard & winners,
automatic reminders to help all hackathon stakeholders to stay organized.

See attendees of all of your hackathons and their submissions. Engage & mentor them in one place. Observe teams progress. Browse & moderate entries.

What is a hackathon landing page?

A hackathon landing page is your private, tailor-made hackathon portal that we set up for you on our platform. It can be customized with your brand's look and feel, ensuring that your hackathon page will amaze your participants and generate registrations.

How do you facilitate hackathon judging & follow-up on the platform?

We facilitate hackathon judging and follow-up on the platform through our dedicated judging module. This module allows you to send invitations to judges, create customized scorecards, and provide feedback to participants.

In addition to the dedicated judging scores, we also offer the option to run public voting and have a User Choice Award.

What are major advantages of using your platform for my company hackathon?

By using our platform, you can provide a seamless experience and easy collaboration between participants, judges, and organizers. You can save time and manage everything with ease, minimizing hackathon risks and helping to achieve ROI on your hackathons, whether it's about hiring, evangelization, or innovation sourcing.

What is unique about your solution?

There are several major factors that form our unique value proposal in the hackathon organization and promotion space:

Our tool - it'is a dedicated, end-to-end hackathon management platform that powers some of the world's most successful hackathons. It is a powerful tool, but we take care of all the setup work for you, making it easy to use.
Our team - our team has expertise in working with some of the world's leading brands to launch amazing hackathon events that have resulted in successful hires and new innovations.
Our outreach to worldwide talent - our case studies demonstrate how we have generated quality participants and submissions for hackathons, ensuring the successful events.

How do you promote hackathons?

We generate quality traffic to your hackathon landing page and registrations with multiple specialized developer groups, cross-promotion campaigns, and targeted, precise outreach. Our global reach is over 1.2 million, including software developers with popular technologies such as Java, C#, .NET, C++, Python, and more.

In addition to generating traffic and registrations, we promote hackathons and code challenges and engage our community with quality content, webinars, and onsite meetings. We know how to communicate with tech talent, as we are developers ourselves and understand what makes them tick. With proven methods, we minimize your risks and help you achieve success and ROI of your hackathons. Whether it's about hiring, evangelization or innovation sourcing.

How much does it cost to organize a hackathon?

The cost of organizing a hackathon can vary significantly, and it depends on several factors, such as the size and complexity of the event. After analyzing the project requirements, we provide customized pricing to our clients.

How to get started?

To get started, simply tell us your hackathon goals and priorities. We will analyze your needs and present custom pricing. We will then set up your own customized, branded hackathon page on our platform, promote your hackathon, and manage every phase to ensure you achieve your desired return on investment (ROI).