Start an online Recruitment Challenge.
Get 3x more candidates. Faster.
Hire from our competitive community of 100K+ IT & tech talent.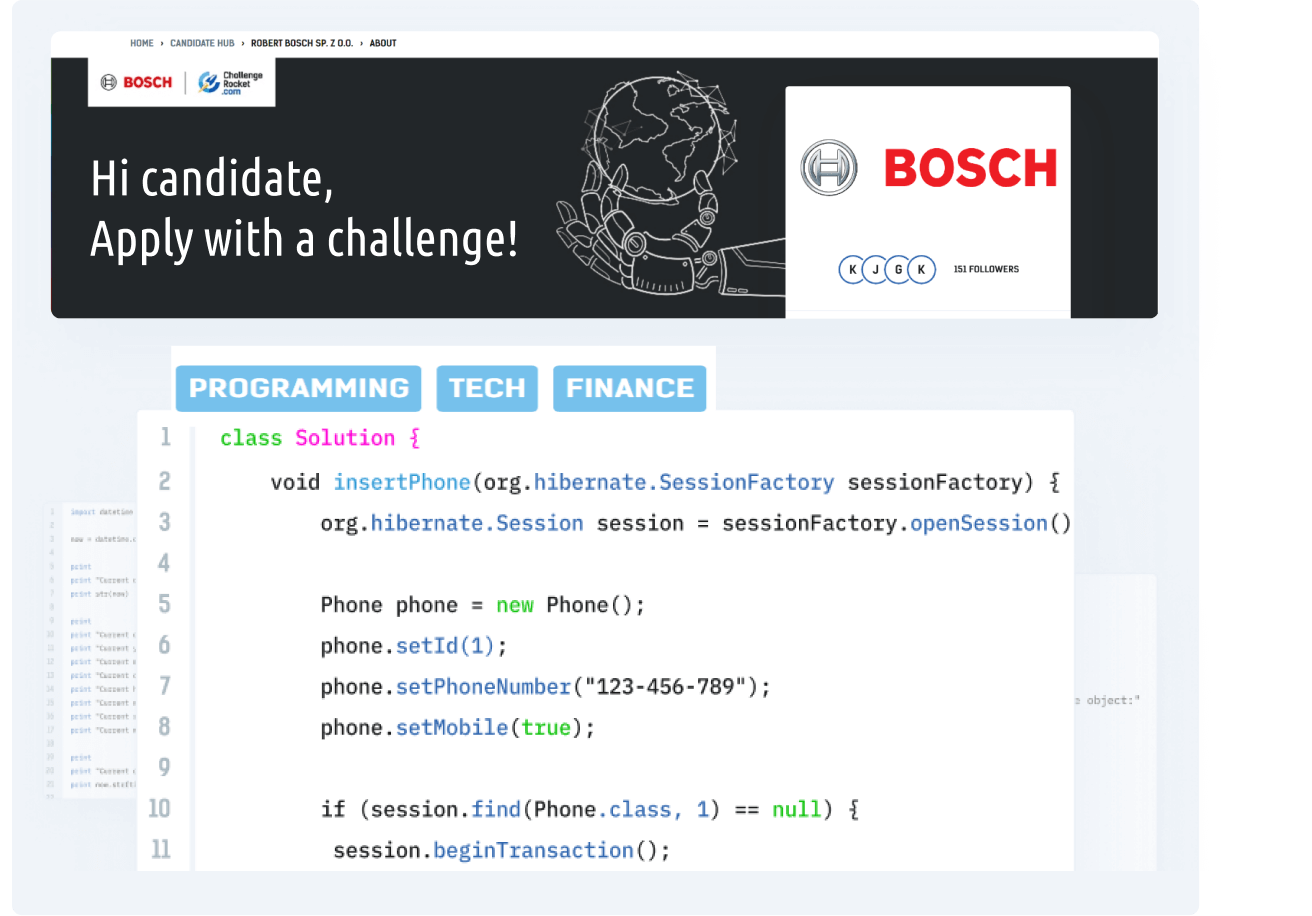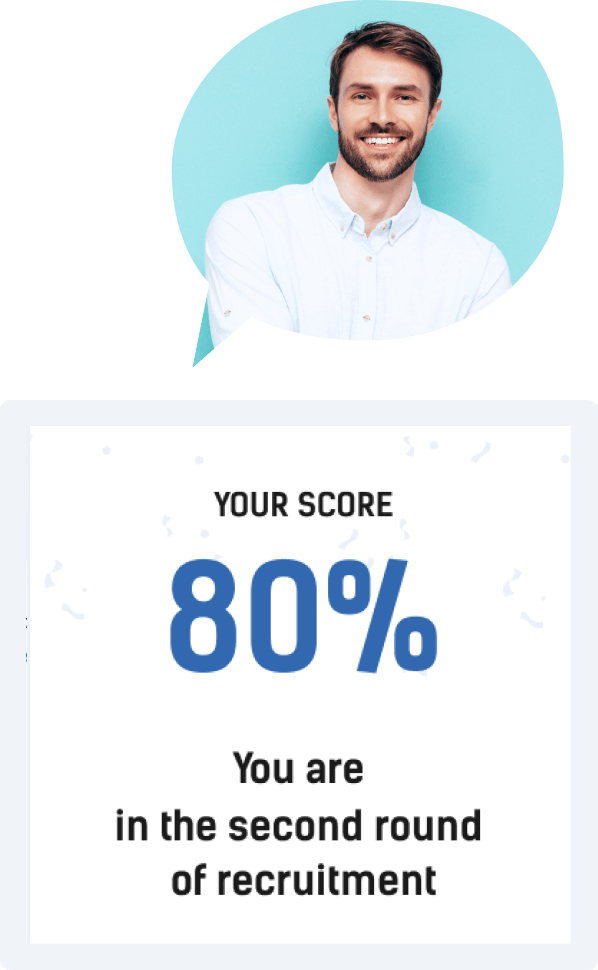 How do we do recruit
with an innovative Skill Challenge formula?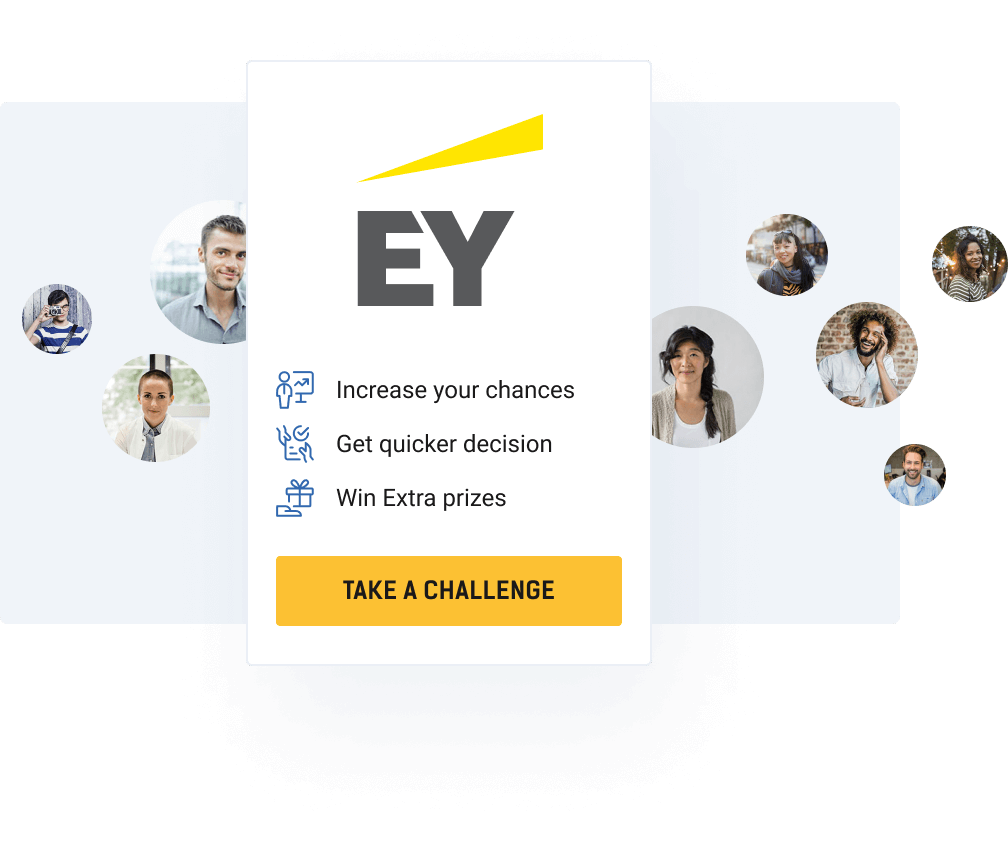 We attract exceptional
hidden candidates
Those not actively looking for jobs.
Not responsive to job ads. Not available earlier.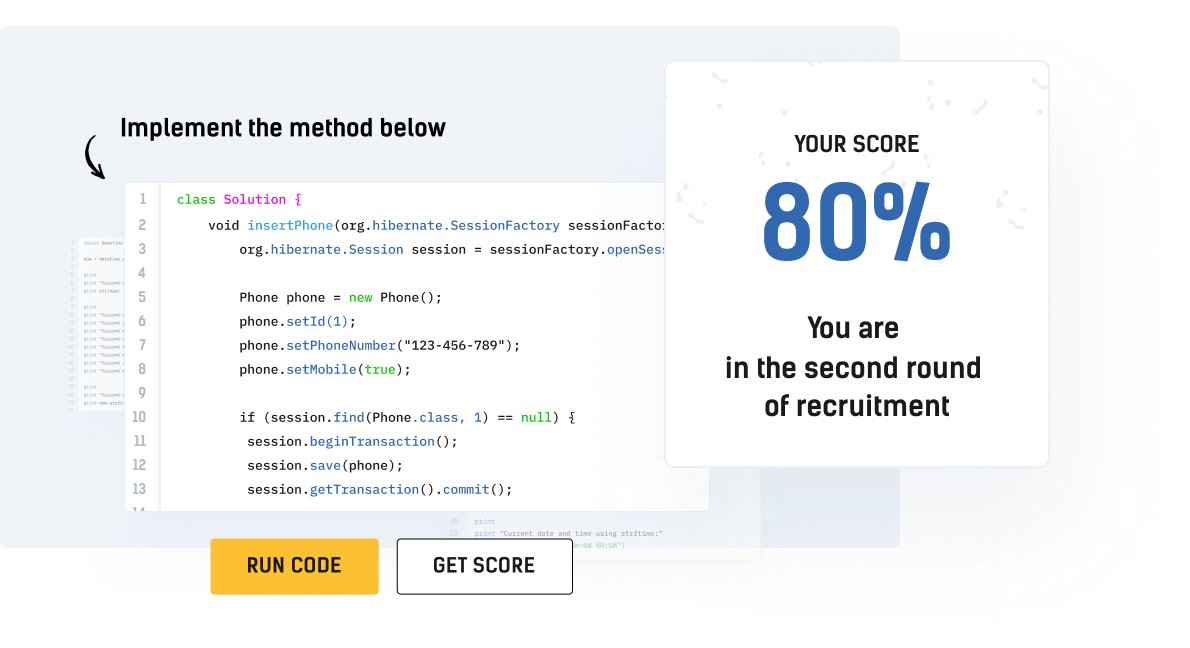 Participants
show their talent
Coding assignment or test related to recruitment process.
Automatic computer assessment and feedback.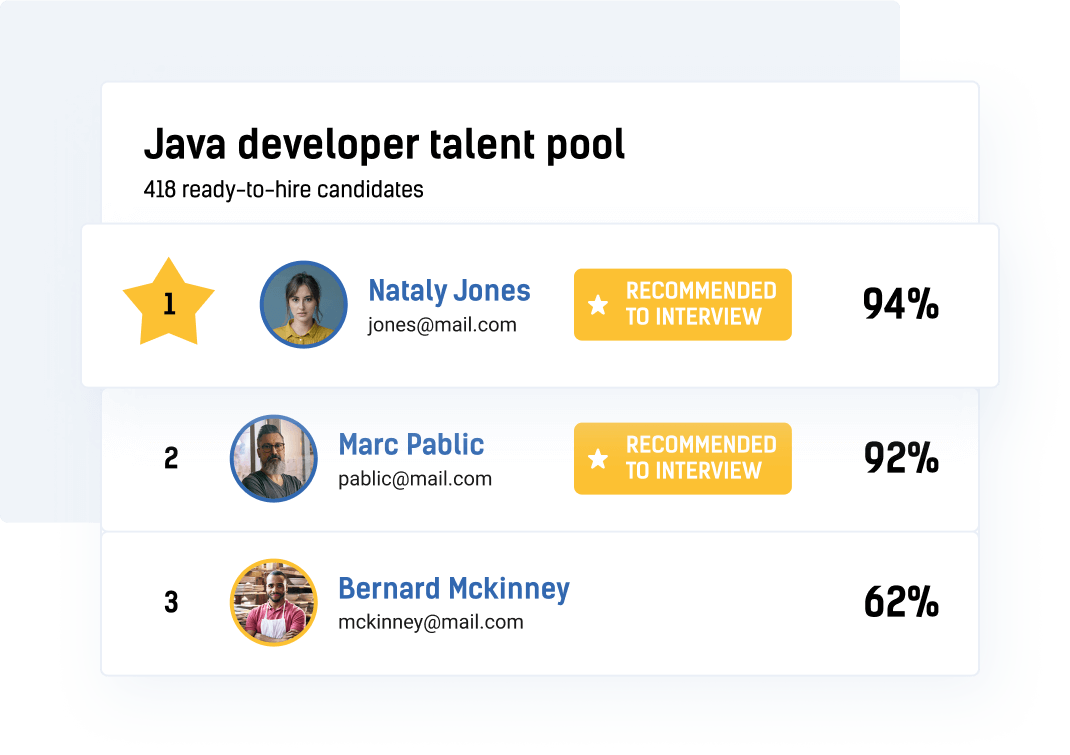 Get Candidates Pools
for current & future roles
Contact selected candidates and hire based on data.
We've engaged 356 candidates in 60 days.
90% of candidates attempted a test. Key benefits:
sourcing cost reduction
compared to traditional methods
effectiveness of job ad
in SkillChallenge formula
outreach of employer
brand message
*Data from recruitment campaigns conducted with ChallengeRocket.com.
Challenge received much more interest than traditional job ads. It is a great way to reach out to hidden candidates that would not apply otherwise.
ChallengeRocket in numbers
100K+
outreach
in our network
1 MLN+
social media
campaign outreach
2-5
average hires
after challenge
Novel recruitment solution.
Loved by companies and candidates.
We made the experience fun and rewarding for our candidates with ChallengeRocket, which enabled them to showcase their talent and receive instant recruitment feedback.
Showcasing my skills early in the challenge helped me prove my abilities and pass the initial recruitment filter.
Challenges are a great way to connect to hidden talent and candidates who may not participate in traditional recruitment processes.
Flexible payment
Pay-per-project
Payment for dedicated recruitment project.
Access to platform
Recruitment Challenge setup
Outreach to target group
Legal processing
Custom pricing
from 20,000 PLN
I want custom pricing
Pay-per-hire
Retainer + pay per hired candidate
Access to platform
Recruitment Challenge setup
Outreach to target group
Legal processing

NEW

Individual contact with candidates
Custom pricing
from 10,000 PLN
+ Success Fee
I want custom pricing
Let's talk
In view of your consent, the data you provide will be used by ChallengeRocket Sp. z o.o. based in Rzeszów (address: Pl. Wolności 13/2, 35-073, +48 695 520 111, office@challengerocket.com) to send messages as part of the newsletter subscription. Don't worry, only us and the entities that support us in our activities will have access to data. All information on data processing and your rights can be obtained by contacting us or at www.challengerocket.com in the
Privacy Policy
tab.
Proven effectiveness
Up to x3 more candidates
and shorter recruitment time
FAQ
Below you will find answers to the most frequently asked questions.
Recruitment Challenge goals
What are the goals of the Recruitment Challenge?

The main goal is to acquire new candidates for your current and future roles.
Very often an additional goal is to promote your Employer Brand in a new way that is particularly appealing to tech people.

What kind of specialists can I acquire through the Challenge?

Our recruitment challenges are primarily targeted at the IT sector - software developers, engineers, data scientists, testers, analysts, PMs and more.
Besides IT sector and tech-related roles we have successfully launched Recruitment Challenges to attract financial analysts (i.e. Tauron) and people with sales & merchandising skills (i.e. Coca-Cola).

Is participation in the Recruitment Challenge synonymous with applying to certain job positions?

Yes, as long as we put such information in the Challenge application form and require users to upload their CV. Some companies however choose to allow participation of users who are not planning to change jobs at a given moment or simply look around for new projects. Interesting challenge themes can help to attract their attention and raise interest in a company which can in turn lead to hire in future.

What online challenges on our platform are more effective than other methods - in particular regular job ad campaigns or ordinary job agencies?

First of all, challenge-based hiring allows you to stand out from other employers and draw bigger attention. Interesting online activities related to your Employer Brand act as a magnet for talented candidates.

Secondly our challenges are reaching both active and so-called passive job seekers. Those who do not browse job ads at all. With engaging challenges they dedicate their time to solve assignments and in the process they get to know your company. It's a great starting point to build relationships with otherwise unavailable people.

Can I use one Recruitment Challenge to acquire candidates for different roles?

Usually a single online Challenge is assigned to a single recruitment process where one or more candidates are needed for certain job openings. Sometimes it may be possible to acquire multiple talents representing different specializations with one challenge. Each case is analyzed individually and we give recommendations as for the optimal form.

Do Recruitment Challenges reach Junior or Senior-level candidates?

We reach candidates of various seniority levels. We attract both seasoned software developers who often do not look for a job with job boards as well as young ambitious candidates willing to show off their talent and get better jobs.

How many candidates can be acquired with the Recruitment Challenge?
Launching Recruitment Challenge
Who is responsible for preparation of the Challenge?

Challenge is prepared by ChallengeRocket. Our team is also responsible for challenge promotion. We only expect clients to deliver necessary information and accept finally created work.

Who is responsible for the preparation of Official Rules?

The ChallengeRocket team takes full responsibility for the legal side of the Challenge.

Who creates assignments for participants? Can we join the process?

By default it's part of ChallengeRocket scope of work. It's also possible for clients to participate in the process or create their own assignments for participants. Those assignments will be published and made available for users in online form.

What materials are required to get started?

To initiate project works we ask clients to provide us with the profiles of desired candidates as well as information about employer offers and projects.
It's also useful if we know what are the questions that candidates get asked during your assessment process. Based on that we can better calibrate difficulty level and topic areas of the challenges.

How long does it take to launch a Recruitment Challenge?

On average it takes 8 working days after receiving full information from the client regarding the desired candidate profiles and regarding employer brand offering.

What is the duration of a Recruitment Challenge?

Optimal time: 6-8 weeks. During that time challenge and recruitment offer is promoted to the target group.
Challenge promotion. Browsing candidates
How do you promote a Challenge?

Challenges are promoted in our network. Additionally depending on the specialization area and geographical reach we launch additional external campaigns and outreach efforts.
Our case-studies show big outreach that we're able to generate.

Can I present my Employer Profile alongside the Recruitment Challenge?

Absolutely yes. The Challenge is a great opportunity to engage candidates unknown before and tell a story about your brand, people and interesting projects that you do.
It's possible to set up your dedicated Employer Profile on ChallengeRocket platform to demonstrate your team and unique things you're doing.

How can I get access to candidates and challenge participants?

Access to all participants is possible from within your own dedicated online dashboard.
You see new participants as soon as they finish solving assignments.
You see their contact information, data left in entry forms (i.e. CV) and challenge score which might be useful indicating whether or not you want to proceed to the next recruitment stage.