Regular/Senior C++ Developer Coding Test
Immune to ChatGPT cheating.
Resistant to ChatGPT
AI is not capable of solving this test, and candidates cannot succeed by simple copying and pasting it into ChatGPT
Real coding environment
Applicants are assigned tasks in a simulated coding environment.
Automatic Skill Reports
Automated scoring and a skills report that highlights the candidate's strengths and weaknesses.
Test objective, approach and methodology outline
This coding test was designed with goal to:
evaluate current programming skills within the scope indicated below
assess basic problem-solving; the ability to come up and implement code solution based on technical specification provided
The test consists of tasks to complete and can be completed using C++ programming language.
This test is designed for individuals who are applying for C++ developers regular and senior positions. The intended audience is described further below (Target).

Code test verifying both:
Category 1: Boost,
Category 2: Algorithm design and problem solving skills.
Scoring and insights are provided separately for two categories mentioned above.
Category 1: Boost
Solving the task requires knowledge of the popular boost library. The tasks are based on the full context of the problem. The narrative of the task guides the candidate from the beginning to the end of its solution. The test takes advantage of the fact that C ++ is a programming language with strict type control. Thanks to this, we create challenges that require careful and active code analysis, deduction, computational thinking competences and simply creativity.
Category 2: Algorithm design and problem solving skills
The task verifies knowledge of data structures allowing accumulated results of some operations on any data range from a previously specified domain to be queried.
Possible solutions of coding assignment:
Basic solution
Application fetches maximum or minimum number of viewers in a time period on each request. Solution is not optimal. Same ranges are processed many times.
Improved basic solution
Slightly improved basic solution can keep ranges already processed cached. This could be helpful when the test suite has cases where the same range is requested many times.
Optimal solution
Solution which is enough to pass all test cases is based on segment trees. Implementation should be able to do queries on ranges. Updates can be done once after loading all data.
Topics covered
The test verifies the following:
understanding of formal instructions / specification
understanding of programming syntax (assignment verifies if candidate understand the rules that define the structure of a language)
ability to store and retrieve data using variables and simple data structures
control of program execution through the use of conditions and loops
using functions (defining and executing functions, ability of candidate to break down/decompose a problem into smaller chunks encapsulated in functions)
ability design simple algorithm,
ability to work with class templates and external library (boost)
knowledge of basic STL elements and operations
problem-solving
interpretation of unit test results
Target
The test is suitable for regular programmers specializing in C++ language. Test is particularly useful for:
C++ developers with 1 to 3 year of experience
Test format
The test consists of 2 code assignments.
Candidate code submissions are evaluated and scored through automated means with ChallengeRocket CodeChecker Engine.
Scoring is provided automatically.
The time limit for the entire test is 120 minutes, though this may be reconfigured as needed.
On average, completion of the test takes approximately 60-80 minutes.
This test will allow you to:
automatically differentiate candidates
get automatic score + meaningful insights
remove bias from assessment process
save engineering hours spent on candidate pre-assessment
save time spent on interviewing unqualified developers
offer unmatched candidate experience
Technical verification and evaluation method
The candidate's coding performance is verified using the following technical scheme:
The candidate uses our virtual coding environment and introduces a solution directly in the ChallengeRocket web platform (no need to install anything by test-taker)
Code introduced by the test-taker is compiled and run in our virtual machines multiple times against various test cases of various level of difficulty
ChallengeRocket CodeChecker verifies correctness of user solution and provides automatic scoring
The full set of test cases is only passed if the candidate managed to write code that works for various sets of input data
Positions
Regular C++ Developer
Senior C++ Developer
Tags
Mathematical algorithms
Boots
Giving you score is not enough. This test offers comprehensive easy-to-understand skill reports.
Regular/Senior C++ Developer Skill Report will break down candidate skills to two categories - Algorithms and Boost. We explain why they are both relevant and what interpret candidate performance in each.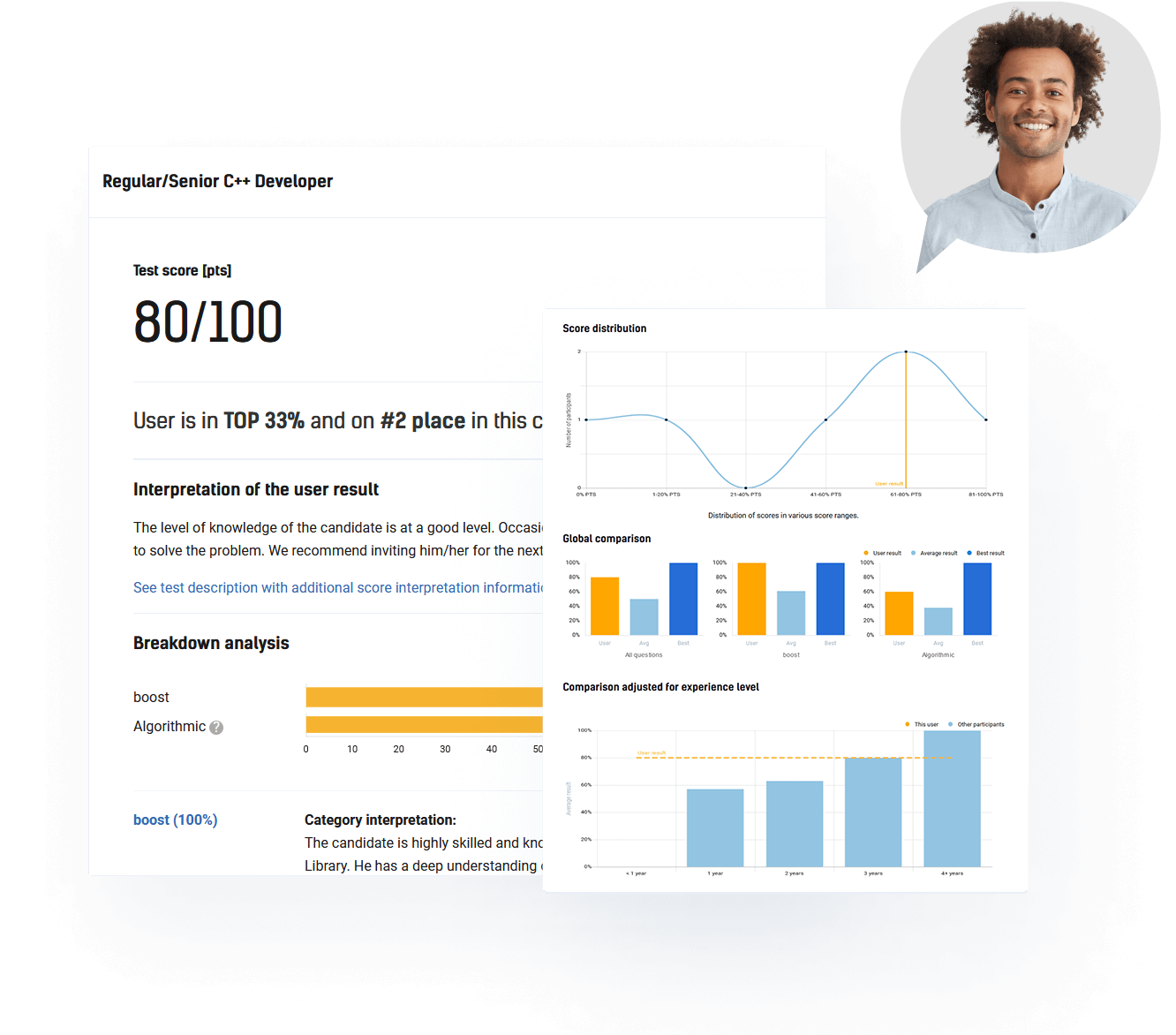 Interpretation of the results
Boost
Why it is relevant
Having knowledge of Boost Library demonstrates a candidate's understanding of various advanced features and techniques in C++, such as multi-threading, regular expressions, and type-traits. Additionally, using Boost Library shows a candidate's experience in using and integrating third-party libraries into their projects, which is an important skill for any C++ developer.
0-24%
The candidate has limited knowledge and experience in using the Boost Library. He may be familiar with some basic features, but may not have a deep understanding of the library and its capabilities.
25-80%
The candidate has a good working knowledge of the Boost Library, and are comfortable using a variety of its features and libraries. He may have experience integrating Boost into their projects, and can effectively use its capabilities to solve problems.
81-100%
The candidate is highly skilled and knowledgeable in using the Boost Library. He has a deep understanding of its capabilities, and are able to effectively use it to solve complex problems. He may have extensive experience using Boost in their projects, and can demonstrate a strong ability to integrate the library into their workflow.
Algorithm design
Why it is relevant
While advanced knowledge of algorithms is not a necessity in the majority of real-life programming projects, all software developers should be able to understand and implement basic data structures as well as design simple algorithms processing this data according to the provided description.
0-24%
The candidate is having difficulty implementing an algorithm based on the given description within the specified time. They lack the skills to implement an algorithm mechanics at a level that should be solved by any programmer at this level of experience.
25-80%
The candidate is able to implement an algorithm based on the provided description. They are able to manipulate data and design algorithms that implement specific logic within a specified time. However, it has a problem with optimizing the speed of the algorithm.
81-94%
The candidate is able to implement an algorithm based on the provided description. They are able to manipulate data and design algorithms that implement specific logic within a specified time. The candidate pays attention to the efficiency of the code, but did not solve the task in an optimal way.
95-100%
The candidate is able to implement an algorithm based on the provided description. They are able to manipulate data and design algorithms that implement specific logic within a specified time. They also consider specific requirements and non-obvious edge cases. The candidate pays attention to the efficiency of the code and is able to optimize the code.
How did we test this test to make sure it is valid and accurate?
Learn about our testing process that ensures meaningful results through proper calibration and score distribution
Test went through the norming & calibration process with beta-testers normative group representing target group for this test. All testing groups consisted of >30 participants.
Average test result among candidates
Score distribution
This chart shows how much of the candidates scored in a specific range.
Comparison adjusted for experience level
This chart shows how an average developer score varies with experience.
Platform and testing approach used by some of the world's leading brands
We're the trusted partner for accurate candidate assessment and better hiring choices.
ChallengeRocket platform and test library helps our recruitment department in a great way with assessing the technical skills of a high volume of candidates.
Showcasing my skills early in the challenge helped me prove my abilities and pass the initial recruitment filter.
We have tested a lot of skill assessment solutions for tech professionals. ChallengeRocket is ahead of others both in terms of platform capabilities and support.
Get objective
scores. Faster.
Save time with
automatic scoring
Provide top
candidate experience
Provide feedback
to candidates
Modern unit-testing
frameworks
Candidate friendly IDE
Easy process
Full GDPR compliance
See more sample tests
Can't find what you're looking for? Let's set up a guided demo with a test suitable for your needs!
Want to learn more?
Let's talk!
In view of your consent, the data you provide will be used by ChallengeRocket Sp. z o.o. based in Rzeszów (address: Pl. Wolności 13/2, 35-073, +48 695 520 111, office@challengerocket.com) to send messages as part of the newsletter subscription. Don't worry, only us and the entities that support us in our activities will have access to data. All information on data processing and your rights can be obtained by contacting us or at www.challengerocket.com in the
Privacy Policy
tab.
Get trusted results.
Hire the right talent.
World's first ChatGPT immune tests.
Most comprehensive talent reports.
FAQ
Below you will find answers to the most frequently asked questions.
General information
Can I use this test?

While we have publicly shared this particular test, we do not recommend using it for actual candidate skill assessment. However, we offer similar tests that verify the same skills within the same domain and difficulty level, but with a different set of assignments. We encourage you to explore these alternatives for your assessment processes.

What is ChallengeRocket Assessment?

ChallengeRocket Assessment is software designed to help companies identify and surface the best candidates in their pipeline, from entry-level positions all the way up to senior-level specialists. Our platform offers a comprehensive assessment solution that evaluates candidates' analytical, code, and programming aptitude to provide a clear score on their abilities.

Do I need to be technical to use ChallengeRocket Assessment?

No, you do not need to be technical to use our platform. Our system evaluates candidates' skills and provides a detailed interpretation of their abilities in understandable language. This makes it easy for non-technical recruiters and hiring managers to make informed decisions.

How does the assessment process work?

For our built-in assessments, we select challenges that test different levels of a developer's coding abilities. The developer codes their solution, and our system automatically grades their code, ensuring an accurate, unbiased result every time. This testing requires a correct solution and uses the same method that real developers and companies use to validate their own code (automated unit tests). Our virtual online environment provides an interactive IDE for developers to complete their solution iteratively, with the entire console output available.

What makes ChallengeRocket Assessment better than other solutions?

We offer the world's first pre-hire platform with a new generation of tests that are not solvable by GPT-3 AI, so you can trust the results. Our platform provides the most comprehensive talent reports, offering detailed interpretation of candidate scores to help you make more confident decisions. Additionally, we do all the heavy lifting and assist you in picking the right coding assignment for your roles and specific tech requirements. Our assignments realistically predict actual on-the-job performance.

Are all of your tests AI-proof?

Tests that are not solvable by ChatGPT are denoted with a special label. For other kinds of tests, such as simpler intern-level assignments, we recommend additional proctoring methods.

Can I provide feedback to candidates?

Yes, you can provide feedback to candidates. Candidates can receive automatic feedback depending on their score, allowing you to put candidate screening on autopilot with a pass score, automatically rejecting low-scoring candidates and focusing on top talent. Additionally, you can provide custom feedback after reviewing their submissions.

What are the benefits of using our solution?

Our solution offers unbiased, automated skill assessment scores that save you time and allow you to make better decisions based on reliable data. Additionally, our platform provides a better candidate experience by adding an element of joy and curiosity to your application process. Candidates highly value the automatic feedback that we offer.

Where can I see candidates' scores?

All invited candidates and pre-screening results are available from your dashboard panel. This provides you with quick and easy access to all the information you need to make informed decisions.

What skills/technologies/programming languages can we evaluate?

Our platform supports a comprehensive list of main programming languages, including JavaScript, Ruby, Python, C#, Java, PHP, C, C++, Objective-C, Swift, Elixir, TypeScript, Bash, Clojure, Haskell, Go, and CoffeeScript. Additionally, we are constantly expanding our capabilities and have support for Scala and Groovy coming soon. Our library provides a wide variety of challenges that can be used with all or some of our supported languages. When creating your own custom challenges, you can easily add challenge test-cases for each language that you plan to support.

Can I personalize my test?

Absolutely. You have complete control to compose new questions and assignments or edit existing ones to ensure that the test is tailored to your needs. This enables you to evaluate candidates on the specific skills that are relevant to your company and position.
Offer and account activation
Do you offer initial setup?

Yes, we provide an initial content setup based on the client's requirements. We kindly request that you provide us with all necessary information regarding the required tests for the setup, and we will set everything up for you.

How does the test credit system work?

Our test credit system offers both parties greater control over the number of candidates invited to take the test and the number of tests conducted on the platform. Each credit represents the use of one test by one candidate. The recruiter on the client team can use their team account credits to send test invitations to candidates. Once an invitation is sent, the credit is deducted from the client's account.

Are credits refundable?

Credits are non-refundable once the candidate accepts the invitation, but any unused invitations can be withdrawn. Therefore, the client will only pay for used tests based on the usage volume, as follows:

How can I purchase credits?

Our services can be purchased online through a transaction on Challengerocket.com, using your credit card or through an individual invoice.

Do you provide training?

Yes, ChallengeRocket provides a kick-off training session to the client's team to ensure a smooth and effective service activation. Our training covers all necessary aspects of the platform, and clients can designate any number of team members to take part in the online training session.
Talent Reports
How do we ensure that our talent reports are reliable?

We prioritize using both algorithm design tasks and assignments that closely replicate the actual on-the-job environment to provide meaningful assessments that you can rely on. Additionally, we verify a number of parameters in the solution, such as memory usage, speed, and more, to ensure that the assessment is comprehensive and accurate.

What kind of information is visible on candidate Skill Reports?

Our candidate skill reports provide a detailed analysis of the candidate's performance in each category, such as code design, algorithmic proficiency, and programming languages. The report also includes the candidate's score and percentile rank, enabling you to compare their performance with other candidates.

What kind of statistics do you provide?

We provide a variety of statistics that allow you to evaluate and compare candidates against each other in various categories. For example, you can view how the candidates compare against each other in code design, algorithmic proficiency, programming languages, and more. These statistics provide a comprehensive overview of the candidate's performance and enable you to make more informed and confident decisions.