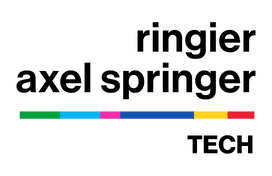 Ringier Axel Springer Tech
Jesteśmy największą w Polsce firmą mediowo-technologiczną. Onet | Newsweek | Fakt | Bussiness Insider | Noizz | Forbes | Ofeminin | Przegląd Sportowy | Auto Świat | Medonet | Komputer Świat | Plejada | Opineo | Skąpiec | Lamoda Gratka | Morizon | Lendi | No Fluff Jobs | Literia | Zapytaj | Jak Dojadę | Sympatia | Game Planet | VOD | Ring Publishing | Moneteasy
O nas
O skali naszych działań najlepiej mówią liczby. RAS Tech to 50 000 emisji reklam w ciągu sekundy, 10 000 baz danych i 6 000 domen w różnych regionach.
Ringier Axel Springer Tech oferuje cały ekosystem usług i produktów. To nie tylko Ring Publishing - cyfrowa platforma wydawnicza w modelu SaaS używana przez nasze największe marki oraz inne media w 13 krajach, ale również projekty informatyczne dla zagranicznych klientów mediowych, a także codzienne współtworzenie nowoczesnego, hybrydowego środowiska pracy.
Dzięki rozwiązaniom machine learning i AI personalizujemy treści dla 30 milionów użytkowników, pomagamy wybrać prezent spośród 6 milionów produktów, obsługujemy 2 miliony transakcji rocznie i radzimy sobie 4-krotnymi skokami ruchu naszych największych klientów.
RAS TECH Summer
Chcesz zastosować w praktyce swoje umiejętności programistyczne w JavaScripcie, Javie, Pythonie lub innych technologiach? Chcesz pracować przy realnych projektach dla największych polskich marek internetowych? Chcesz zdobyć doświadczenie w pracy zespołowej, komunikacji i zwinnych procesach w hybrydowym świecie?
Tego lata, napiszesz kod dla milionów użytkowników. 
Tego lata, zobaczysz jak działają największe polskie media. 
Tego lata nie pożałujesz.
Zmierz się z wyzwaniem rekrutacyjnym i dołącz do programu stażowego Ringier Axel Springer TECH. Spędź TECH Summer ze świetnymi ludźmi.
Podejmij wyzwanie żeby dołączyć do stażystów RAS TECH Summer. Osoby z najlepszymi wynikami w każdej ze ścieżek zaprosimy do drugiego (i ostatniego) etapu rekrutacji - spotkania z zespołem. Korci Cię więcej niż jedna ścieżka? Możesz zrobić tyle wyzwań ile chcesz!
Więcej o programie stażowym na naszej stronie. 
Dlaczego my?
Najlepszym co mamy do zaoferowania jest zespół. RAS Tech to ponad 300 inżynierów i inżynierek, którzy dbają o jakość kodu i niezawodność oprogramowania, dzięki któremu dostarczamy wiarygodnych informacji naszym użytkownikom. Może nie wszyscy są młodzi i nie wszyscy są dynamiczni, ale są profesjonalistami w każdym calu, mają ogromną wiedzę i pasję do technologii.
Tworzymy technologię, z której codziennie korzysta 40 milionów ludzi.
The future of media is written in code. Write yours with us.