6 Time Management Hacks For Tech Recruiters

The IT industry is expanding by leaps and bounds, and tech recruiters are starting to feel the pressure to source and hire more talents than ever. And according to the US Bureau of Labor Statistics, the number of jobs in the IT industry will grow by 13% from 2016 to 2026, which is faster than the average for all occupations. Fortunately, tech recruiters can take advantage of tools that streamline processes, automate tasks, and help save time on some of them. But to make the most of it, it's key to pair them up with best practices and processes.
Here are 6 essential time management hacks to help you save your precious time and dedicate it to activities that bring you the greatest value.
1. Master email management
The daily life of a tech recruiter is centered around their inbox since software developers prefer to carry conversations via e-mails. Many recruiters end up losing too much time on tasks that can be easily automated.
Source: Tenor
Here are a few techniques to help you become the master of your inbox:
Set specific time slots that you will dedicate to reading the incoming emails (for example, three 15-minute slots throughout the day).
Set up folders that reflect the patterns in your inbox.
Then set up filters so that messages land in the folders they belong to automatically.
If you need a transparent prioritization system, consider setting up multiple inboxes – for example, you can divide your emails into inboxes marked as 'To write,' 'Needs reply,' 'Awaiting reply,' or 'Outreach.'
Clean your inbox once a week.
2. Remember that knowing a language isn't enough
Let's imagine that you're looking for a Python developer. You might be thinking that if a candidate knows Python, your job is done - they're the hire you're looking for! Unfortunately, that's not how it works.
Source: Memegenerator.net
The reality of software development is that knowing a programming language isn't enough. A skilled developer needs to know how to use the tools, frameworks, and libraries that are part of that language's ecosystem. For example, if you're looking for the aforementioned Python developer for a web development project, your hire needs to have a firm grasp of not only Python, but also the Django framework (not to mention the key libraries). How to check this knowledge quickly? By adding a specific coding test to your recruitment process. It will allow you to test the developer's skills in the programming language you're searching for, but also the candidate's knowledge of tools that are required in the project.
3. Dive into the tech world
Tech recruiters who achieve the best results are the ones who are genuinely interested in the tech industry, have an in-depth knowledge of the recent trends, and can easily use the language of technical professionals. If you want to engage the technical crowd at every point of contact and nurture your relationship with talents, you need to know IT like the back of your hand.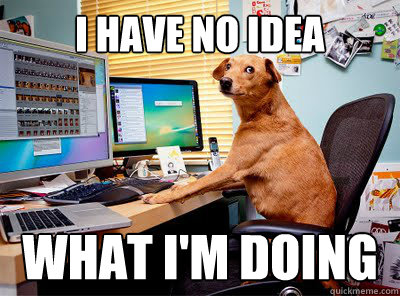 Source: Quickmeme.com
Understanding the difference between React and React Native, Java and JavaScript, or a library and a framework is critical to finding a common language with software developers you're looking to attract. By updating your knowledge regularly, you'll avoid having to spend a lot of time on research when hiring for particular positions later on.
4. Create an ideal candidate persona
Some recruiters try to cast a wide recruitment net, believing that the more candidates they reach, the faster they'll find the ones they're looking for. But that often ends up being more frustrating and time-consuming than expected. On top of that, the technique doesn't guarantee any results. Creating a persona based on your target candidate seems like extra work, but it will save you plenty of time later on. Developing such a profile will help you define an approach for the candidates you're looking for. You'll concentrate on the right candidates who are most promising and won't waste any time on those who don't fit your target because of factors such as skill set or location.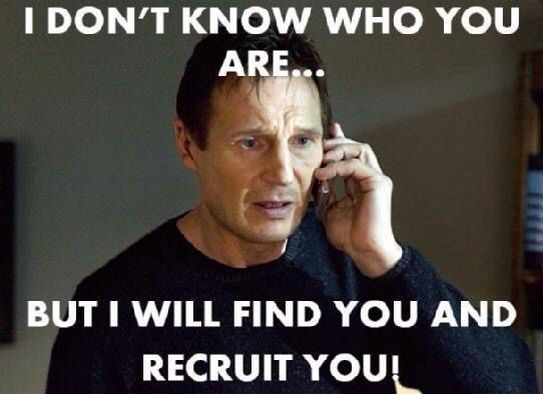 Source: Memegenerator.net
Here's what a candidate figure could include:
professional background like experience and qualifications,
skills you're looking for,
social media profiles and activity,
goals and motivations: what does a candidate value most – and is that something your company offers,
specific professional experience (for example, previous work in startup or enterprise environments).
5. Develop a long-term relationship with candidates
Successful tech recruiters manage to build a steady pipeline of candidate coming from referrals. How do they achieve that? Because they're able to see the future potential of the candidate relationships. Treat every developer well – even if they don't get hired, you can still add value and offer them something extra. They will remember it and refer you to their friends when the right time comes. And they'll come back the next time they're looking for a job.
Source: Giphy
Candidate relationships are of highest value tech recruiting, which often suffers from a shortage of skilled candidates. Even when your days are busy, make some time to put in the extra effort. It's a long-term investment. One way to boost your candidate relationships is keeping your mind open to sourcing candidates with unusual backgrounds. In a recent survey, 44% of tech recruiters said that less than a quarter of their hires had a college degree in a related field. It means that it's high time we started to value candidates with non-traditional educational backgrounds.
6. Invest in an assessment tool
Assessment tools are becoming more popular among tech recruiters because they help to streamline the recruitment process. For example, consider implementing a tool that allows to automatically test the knowledge of candidates and rank them based on insights into their results. Such a tool will provide you with detailed information about the performance of every candidate, helping you to see how a candidate compares to other people applying for the same position. That way, you'll save time on manual candidate filtering and technical interviews. Moreover, a coding challenge is an excellent tactic for acquiring passive candidates. Most developers already have jobs and don't reply to job ads. But they're very likely to take part in an online programming challenge and engage with your employer brand this way.
Source: ChallengeRocket.com
The takeaway
When it comes to recruiting, time management is all about investing time in activities that have the greatest impact on your recruiting strategy and bring you the greatest rewards, both in short- and long-term. The tech industry is challenging for recruiters due to factors such as skills shortage and high competition. That's why controlling and optimizing your schedule is so important - to source and attract top talent, you need to be as efficient as possible.
The tools and best practices we listed above help to reinvent approaches to recruitment and accelerate the recruiting process thanks to automation. Use these 6 time management hacks and you'll make the most of every minute you dedicate to sourcing talented professionals for your project.
IT recruitment
hiring
IT job
programming
IT specialist