Two Months, 53 Countries, And Over 500 Participants - The Magic Of Mercari Euro Hack 2018
How to organize a hackathon engaging over 500 people from over 50 countries? And how to do that in just two and a half months? It's part skill, part experience, part madness, and 100% passion. Keep reading to discover some of our secrets.
The First Mercari Euro Hack
Mercari is the biggest C2C marketplace app in Japan and the first and only Japan tech unicorn, with offices in Japan, the USA and the UK. What was the Mercari Euro Hack 2018? The biggest sharing economy hackathon that engaged developers, designers, product managers and other creative people. "We wanted to build a solid employer brand in Europe by engaging with the best tech communities. We thought that a hackathon can be a fun way to achieve that. After discussing with a lot of hackathon vendors across the globe, we decided to go with ChallengeRocket since they had a good presence in Europe and had great passion to organise hackathons" - said Mr Jatin Kumar of the Global Operations Team at Mercari, Inc.
We wanted to make sure that this global hackathon runs as smoothly as possible. But we also needed to make sure that it attracted top programming talents as well as highly qualified specialists, all the while being an engaging and fun experience. That's why we divided the hackathon into two stages, the preliminary code challenge and the main hackathon event.
And the results? "From talent outreach to online screening and hackathon logistics, ChallengeRocket was highly professional and hands-on in the tasks involved. As a result, we had a whopping 560 applications from 53 different countries", said Mr Kumar.
It was all possible thanks to the ChallengeRocket platform, where we handled the registrations, communications, and generally managing all stages of the challenge. "Thanks to the perfect event logistics handled by ChallengeRocket, we received extremely positive reviews from the participants, making the first edition of Mercari Euro Hack a big success", finished Mr Kumar. And we couldn't be more proud.
The fierce competition of hundreds of developers
The participants could register as individuals or as teams. The first stage of the hackathon was a code challenge. It served as a screening phase to filter out and select only the contestants with the highest qualifications for the main event. The code challenge consisted of 3 complex code tasks. Completing it took approximately 75 minutes, and it was solved by nearly 300 people.
What exactly were the participants supposed to do during this stage? Using a programming language of their choice, they were asked to solve problems of Merizens, inhabitants of a hypothetical planet, called Meriplanet, keeping in mind the spirit of sharing economy. The tasks ranged from calculating an efficient way of sharing a space shuttle, to manufacturing an optimal number of these vehicles. The participants needed to accurately calculate everything to make the Merizens happy. With the help of ChallengeRocket's unique code platform, ranked #1 in the world by Facebook for Developers, assessing and verifying the programming skills of devs or engineers is quick, efficient, fair and fun. This made shortlisting the contestants smooth sailing for Mercari!
On October 20-21 the shortlisted participants gathered on the 38th floor of Warsaw Spire, one of the most prestigious venues and impressive skyscrapers in the capital of Poland. All those who qualified for the main event were people with a mission. They were determined not only to win, but also to reinvent the way we think about sharing economy. A prize pool of €22.500 was up for grabs. But the winners would also be invited to the Mercari headquarters in Japan to present their projects! Additionally, every contestant was reimbursed for travel and accommodation costs.
Source: Mercari, Inc.
Diversity of the Mercari Euro Hack
This aspect of the Mercari Euro Hack is truly inspiring. The crowd of participants was extremely diversified. The challenge attracted people from 53 countries. This includes Poland, Finland, Germany, Ukraine, Russia, France, Italy, Spain, the Czech Republic, the UK and many more. Information about this hackathon reached tech communities from across the world, which is backed by registrations from India, China, the USA, and even Brazil! Out of the 560 contestants, one could find a person of any nationality, age, or profession. As much as 85% of participants were students. The remaining 15% came from large IT corporations and newly-created startups. They were highly qualified professionals specialized in backend development, graphic design, data science, or machine learning. Although 90% of the contestants were male, a lot of teams were mixed, and there was one all-female group as well.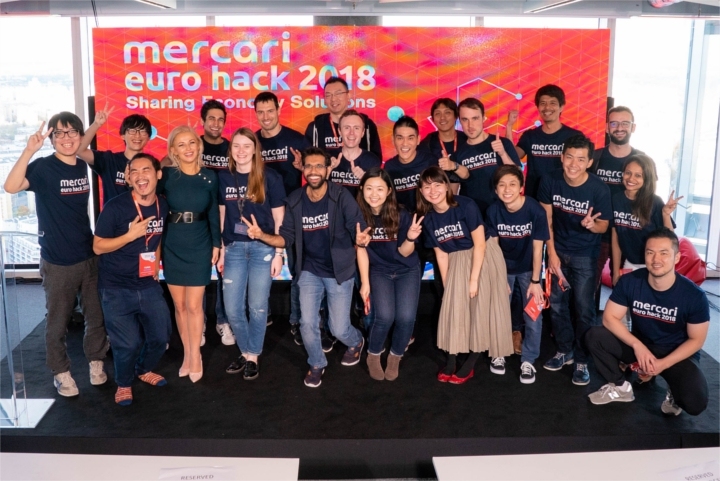 Source: Mercari, Inc.
Winners that will revolutionize sharing economy
In total, 30 teams were invited to participate in the hackathon in Warsaw, Poland. The level of competition, skill, and professionalism was remarkable and every team had a unique idea.
"This was Mercari's first hackathon in Europe, and the number of participants was far higher than we anticipated. We were really impressed by how motivated everyone was for this event", said Mr Suguru Namura, Mercari JP CTO.
Each team worked tirelessly throughout the hackathon. A group of mentors specialized in various fields including machine learning, iOS development, or backend development were by their side at all times. During the 28 hours of hard work, all contestants had a chance to participate in a session of yoga or rest in fun and relaxation zones.
"Challenge Rocket supported us throughout the entire event, and although it was a challenging hackathon, I think we were able to provide a stress-free environment for our participants", Mr Namura continued.
The judges had to face a challenge of their own when deciding on the three winning teams, and we can't blame them! As Mr Namura pointed out, "the participants were required to come up with a final project within 24 hours, but even under these intense conditions, most teams made it to the final presentation and were very high level".
For this reason, after much deliberation the jury decided that two additional teams deserved honorable mentions. The first of those teams was Game Share from Poland, who harnessed the power of GPUs to introduce a game sharing solution to the market. The second team was called #ExtraOrdinary, a collaborative effort of talents from the USA and China. Their project consisted in improving online shopping UX by enhancing search options through the use of image clustering.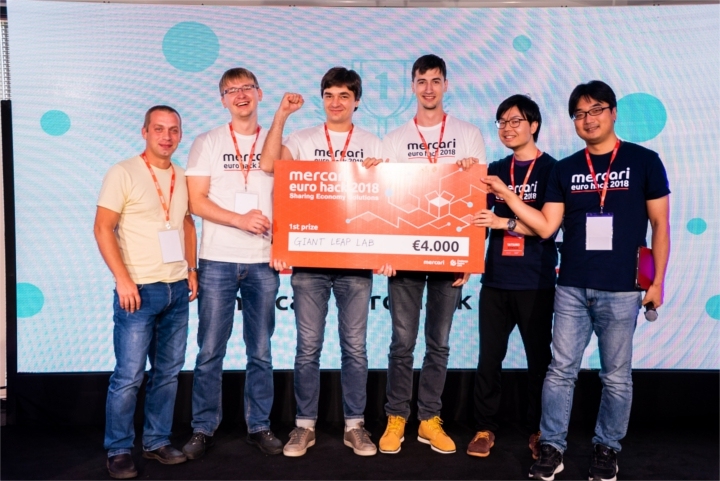 Source: Mercari, Inc.
Giant Leap Lab, a group of talents from Ukraine won the challenge! Imagine a marketplace where you could buy goods which their owners no longer use, and where you could sell the objects you no longer need, thus freeing up some space in your closet and making a profit at the same time. That's what the winning team created in just over a day. The goal is to popularize reselling used clothing, furniture, etc., as an effective means of saving the environment. Follow their actions closely, they might change your future sooner than you think!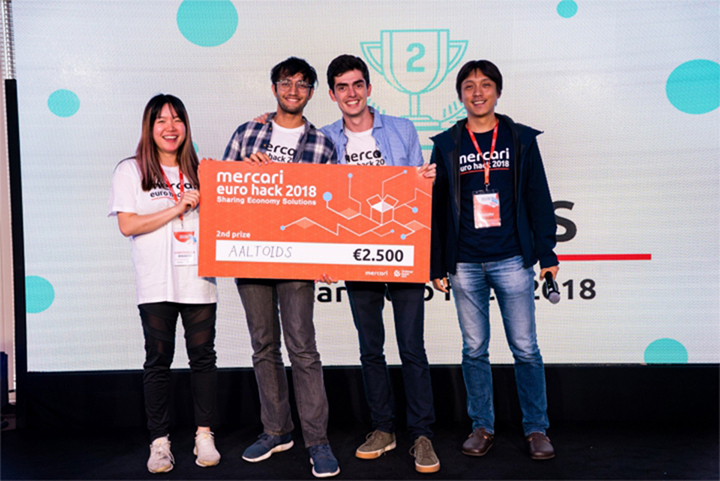 Source: Mercari, Inc.
The Finnish team Aaltoids were the runners-up. They created a project that harnessed the power of blockchain. They wish to create a decentralized database for making online transactions with trusted users. If you've ever had an unpleasant experience while trying to buy a product on the internet, worry not, Aaltoids are here to help!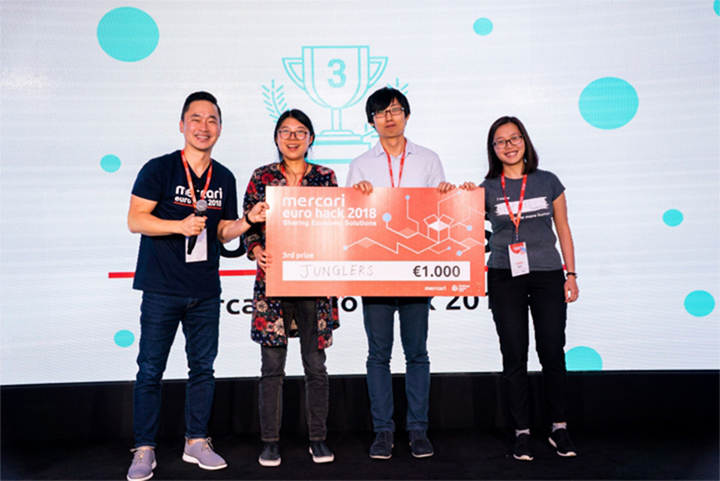 Source: Mercari, Inc.
Junglers, yet another team from Finland, finished third. Their solution aims to tackle the problem of fairness and honesty in e-commerce services. They built a system that verifies whether product pictures are genuine or copied, and thus detecting potentially fraudulent practices.
We wait for more
The Mercari Euro Hack 2018 was full of passion for change, and the astounding 30 projects speak for themselves. The smiles on the participants' faces and the satisfaction of bringing their ideas to life and converting them into functional prototypes in a matter of hours reflect the true spirit of hackathons. Together with Mercari we organized an event that attracted great minds of the global tech community, and this made us hungry for more. Mercari is the newest member of the ChallengeRocket family. If you'd like to run a hackathon with us as well, all you have to do is click.
mercari
Mercari Euro Hack 2018
hackathon
programmers
programming