Are you registered for the 4Developers ONLINE? Great, because we've got something interesting for you! Once again in collaboration with Microsoft (one of the biggest tech companies in the world) we've prepared a special challenge, in which you can win some cool prizes!
3...2...1... Join the fun, it's simple!
Sign up for a newsletter to stay informed about the latest Azure features. (~ 1 min)
Before joining the challenge, you will be asked to provide your e-mail address - remember, that it should be the same e-mail address that you used to register for the festival (~ 1 min)
Click the "Start" button and solve the tasks (~ 15 min)
Additional information about the challenge:
You have only one chance to complete the challenge.
The test has 12 questions.
In the closed questions only one answer is correct and you get 10 points for each correct answer.
You have 15 min for the test.
The challenge is available only to registered participants of the 4Developers ONLINE.
The challenge will be available from 14.09.2020 (08:45) until 18.09.2020 (17:00).
We will announce the winners and distribute the rewards after the official part of the 4Developers ONLINE on 18.09.2020, at about 17:45 as well as on Microsoft booth on the event platform (Hopin).
Why you should participate in the challenge?
It's an amazing opportunity to gain new knowledge and test your skills!
Perfect way to compete with other attendees.
You can show your talent and get discovered by one of the biggest tech companies in the world - Microsoft.
For the winners we have some amazing prizes.
About the 4Developers 2020 ONLINE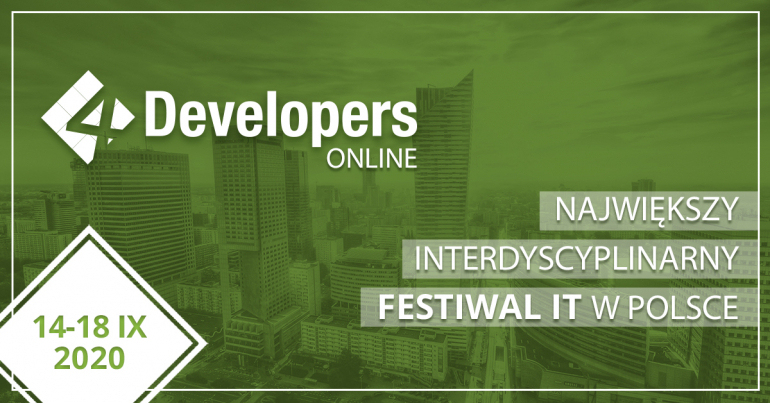 4Developers 2020 goes online! After a thorough analysis of all possible solutions during the COVID-19 pandemic, the conclusion is one: only an online event is able to provide you with full comfort and safety. That is why we decided to move 4Developers 2020 to the network, but in a new, cool form of a 5-day festival! What about the knowledge? Every day you will have the opportunity to take part in 3 thematic paths and in Q&A with our speakers. Like always, you have 14 paths to choose from: .NET, Application Architecture, Bottega Innovation Labs, Technology mix, C++, Cloud Computing, DevOps, Java, JavaScript, Machine Learning, Mobile, PHP, Testing, Soft Skills & Business Relations.
You can find more information and the agenda here!