Get scared or get excited with these AI projects!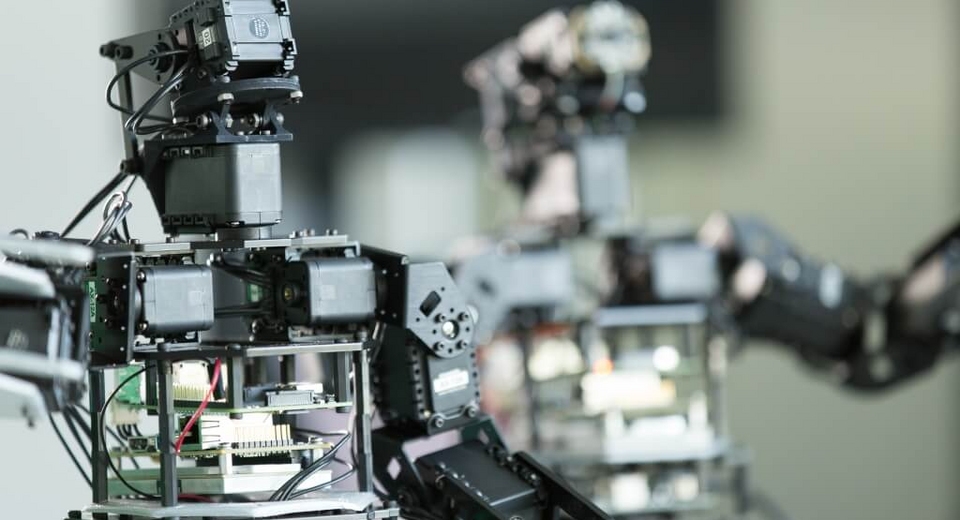 1. Calling out all singing and dancing robots. Go to the Ball!
If you are a robot your options to go out for evening are rather limited. But there is one place in Moscow where you could go. See video from the Ball of Robots exhibition in Russia! It looks like a scene taken from sci-fi movie.
Robots from around the word all gather together to show off their dance moves, paint portraits or entertain people by singing!
2. Real or fake?
Can you tell human from robot? Watch video and scroll to the end of the articles for an answer :-)
3. How AI sees the world? How Tesla cars are tested in virtual space?
This is NVIDIA CEO Jen-Hsun Huang showing off the DriveWorks platform for self-driving cars during GTC conference. All Tesla cars shipping today feature the NVIDIA Drive PX 2. See a human-like visualization of the world used by AI for testing and a footage of the NVIDIA BB8 AI car navigating the world.
4. Isaac initiative
If you like what you just saw this will blow your mind! Later this year NVIDIA unveiled another initiative - Isaac. It is an AI-based software platform that let all developers train their virtual robot with highly realistic test scenarios.
Can we all just take a moment to appreciate how cool this move is? They figured out a way to give robots playground to do experiments and improve. Systems working within virtualized environment can teach themselves new thing much faster at lower costs. And then they give it out for all developers to play with! "That's all I've got..." - Huang said. Pretty modest way to close the presentation considered what your team have just accomplished!
If you're impressed with NVIDIA and want to be a part of the AI revolution, here's a great Challenge for you: https://challengerocket.com/nvidia
5. Meet Sophia
This robot named "Sophia" has already made history. It has become the first ever to be granted a full Saudi Arabian citizenship. Watch her speech then she's saying thank you for that.
Some people watching this video for the first time think that a man might be a robot too :-) This is AI specialist David Hanson of Hanson Robotics. And that's the man who created Sophia! Here she's been interviewed (CNBC):
6. Robots debating future of humanity
Did you like Sophia? See her debating about future of humanity! This is something that's never been done onstage before (tip: Robots start speaking at 4:18).
7. Meet even more robots!
Want more? Meet some Sophia friends from all over the world!
And now answering point 2. That was an actress (here's her Instagram account).
Disappointed? Would you like it was real and robots would get as real as humans? Do you have an idea and the engineering skills to make new great robot? Here's your chance to code, build and win amazing prizes - https://challengerocket.com/nvidia.
Check it out, get your friends on-board, and create something cool!
The views and opinions expressed in this article are those of the authors and do not necessarily reflect the official policy or position of NVIDIA.