#SustainHack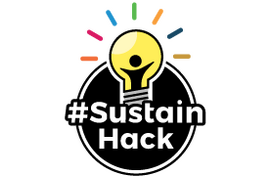 prize pool
20 000 PLN
gross
Feb 13 - Apr 05, 2018 23:59 CEST
ONLINE CREATIVE CHALLENGE
Co to jest Idea Challenge?

Idea Challenge to konkurs online polega na samodzielnym napisaniu projektu i nadesłaniu go organizatorom w wyznaczonym terminie. Taka forma konkursu pozwala na udział szerszego grona osób – odległość i kwestie logistyczne nie są ograniczeniem.

Kto jest organizatorem konkursu?

Partnerem konkursu jest Bank BGŻ BNP Paribas i Kompania Piwowarska.

Kto jest partnerem konkursu?

Kto jest partnerem konkursu?

Kto może wziąć udział w konkursie?

Udział w konkursie może wziąć każda osoba posiadająca innowacyjny pomysł oraz kreatywne rozwiązanie, jak również drużyny złożone z maksymalnie 5 uczestników. Do rywalizacji zapraszamy także startupy oraz studetów.

Czy udział w konkursie jest płatny?

Nie, udział w konkursie jest bezpłatny i dobrowolny.

W jaki sposób powinien zostać wykonany projekt?

Konkurs idei daje możliwość zaprezentowania projektu w dowolnej formie. Może to być na przykład film, prezentacja, opis, przy czym maksymalna liczba stron pliku nie powinna przekraczać 10 slajdów, zaś film 3 minut. Może to być również animacja, screenshot, demo aplikacji, prezentacja multimedialna lub grafika. Zdecyduj sam.

Ile zgłoszeń może wysłać 1 uczestnik?

Uczestnik może pracować podczas #SustainHack nad 2 projektami odpowiadającymi 2 wyzwaniom sformułowanym w konkursie.

Co jest nagrodą główną w konkursie?

Nagrodą główną dla każdego wyzwania w konkursie jest kwota pieniężna w wysokości 10.000 PLN.