This Challenge is completed
Anita's Moonshot Codeathon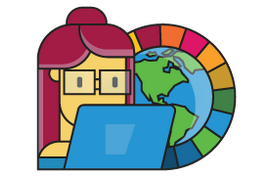 prize pool
$27,250 in prizes
Nov 30, 2017 - Mar 02, 2018 09:59 UTC
Community voting: Mar 02 - 14, 2018 23:00 UTC
How much does it cost to participate?

Nothing! There is no entry fee necessary to enter this competition.

How can I apply?

Sign up using the registration form on the ChallengeRocket platform.

Who can vote for projects?

Members of the Systers Community can vote.

Who can participate in the competition?

Women and people who identify as woman.

Do I need to be in the U.S.?

No. We will provide scholarships for any women around the world.

Can I submit an application I am a co-author to?

Yes, group or individual work can be submitted to the competition. By entering the contest, the participant declares that the project is designed for the purpose of the competition and is authored or co-authored (in the case of teamwork) and does not infringe any third party rights. Thus, the participant assumes total and unlimited liability for any third party claims directed to the Competition Organizer.

What is the main prize in the competition?

Full Scholarships to attend Grace Hopper Celebration 2018.

Can I send more than one application?

Yes, you can submit more than one ideas but you can only be part of one team for developing the idea in the day of the hackathon.

What do I need to do if I want to participate?

Submit your project via ChallengeRocket platform.

If I win, do I keep ownership of my project?

Yes, you will retain Intellectual Property ownership of your project.

What language should I use for the project entered into the challenge?

All submissions must be in English.

Do I have to know how to code to participate?

No. We will accept mock-ups and moveable prototypes.

Where can I find a teammate?

Join a virtual session or sign up your contact information here: bit.ly/moonshot-teammates.

If we are a team do we have to select the leader?

Each Team must appoint one individual (Representative) to be responsible for entering a Submission. Appointed member might be responsible to receive and distribute award amongst all team members.

Who will verify my submission?

Submitted works will initially be screened by a qualified internal panel selected by the Administrator or Organizer at its sole discretion. After being screened by the Organizer and/or the Administrator for basic functionality and accordance with these Terms, the finalist Submissions will be judged by an expert judging panel determined by the Organizer and Administrator.

When can I be disqualified from the competition?

If the Organizer, the Administrator or the Judges, in their discretion, find any Submission to be unacceptable, then such Submission shall be deemed disqualified. In particular Submissions will not be accepted and may be disqualified by the Organizer or Administrator if they: ● are illegal ● are offensive or derogatory towards any specific race, ethnic group or culture; ● are offensive or derogatory towards Organizer or Administrator ● might adversely affect the reputation and goodwill of the Organizer or Administrator ● reflects negatively on Organizer, casts Organizer in a false, derogatory or negative light ● depict hatred ● contain pornography or depict sexual activity ● contain obscene language ● incite violence ● are not in a good taste ● demonstrates a lack of respect for public morals or conduct

Can I exchange my prize?

The Prizes cannot be exchanged, neither for a monetary equivalent nor for a prize, other than the one granted.

Who pays for the fees related to prizes?

Winners are responsible for any fees associated with receiving or using a prize, including but not limited to, wiring fees. The Participant receiving the prizes is also solely responsible for covering any potential tax payments.

When will I receive the prize if I win?

Items will all be shipped by June 1st, 2018. Grace Hopper Celebration related travel expenses will be completed by August 1st, 2018. Stipends and meal cards will be provided on site at the Grace Hopper Celebration which occurs September, 26–28th, 2018.