bankITup - Data rules! A case study of a Santander Bank big data hackathon

source: Santander Group
Big Data is the key element of any successful business strategy today. Bank Zachodni WBK (Santander Group) holds an annual hackathon called bankITup, and for this year's edition, titled "Data rules!", data analysts, software developers, graphic designers, and creative individuals were invited.
A look at a Big Data hackathon
BankITup - Data rules! was Big Data hackathon focused on building tools, models, or algorithms meant for finding companies with highest investment and growth potential. The event was held in Wrocław, on campus of Wrocław University of Science and Technology, which was the event's partner. It's the second edition of this banking hackathon, and the challenge consists of two stages, first one starting on April 14th was the on-site part that lasted two days. This was the time for forming teams, coding, and even some rest here and there. The second stage of the hackathon takes place from 18th if April to 15th of June and consists of three select finalist teams working closer with the Mentors to further develop their projects.
The numbers
Number of registered participants: 109
Number of partners: 26
Total number of public votes: 1597
Duration: April 14-15
Prize pool: 43.000 PLN
The projects
Presented projects have been qualified to the finals of the challenge, but you can also see more of the solutions to the Santander Bank hackathon here.
This project is a web application that seeks news about a given company, creates an abstract of found stories and aggregates that data for easier access. In addition the whole system accounts for the register and tone of the stories, in effect creating a comprehensive summary about a given company. This project was awarded 1st place in the bankITup challenge.
The team behind this project approached the competition from a slightly different angle than the rest of the participants. Aside from analysing the most easily accessible data about companies, there's also the not-so-obvious side, something one cannot easily translate into numbers. That is the Human Resources departments and other employees. In short, their solution is meant to assess the staff's performance, attractiveness of employment benefits, and company trust. This project was awarded 2nd place in the bankITup challenge.
FinMedi is a system detecting early signs of a company needing new financial services. Leading a well organized business is just one part of the story, expanding it is another, even more important one. To source data necessary for such estimation the FinMedi system analyses outlets like KRS, GPW, NewConnect, Twitter or Pracuj.pl and processes them using the NLP and Fuzzy Logic techniques. This project was awarded 3rd place in the bankITup challenge.
After Public Vote this project is the community choice. The team behind this solution is using SMART (Simple Multi-Attribute Rating Technique) Analysis to help investors decide on the best possible investment at any given moment. To decide on a most suitable choice the system analyzes a business' popularity on social media that utilize Twitter API.
This project received an honorable mention in the bankITup challenge, and its name is an analogy to how solar systems work. Instead of planet, restaurants create areas or attraction for customers. How strongly a given venue attracts people depends on the Google Places rating. Comparing those "gravitational forces" between different restaurants can help calculate the investment risk, which, along with visualised areas of attraction, allows investors choose a perfect venue for their new business.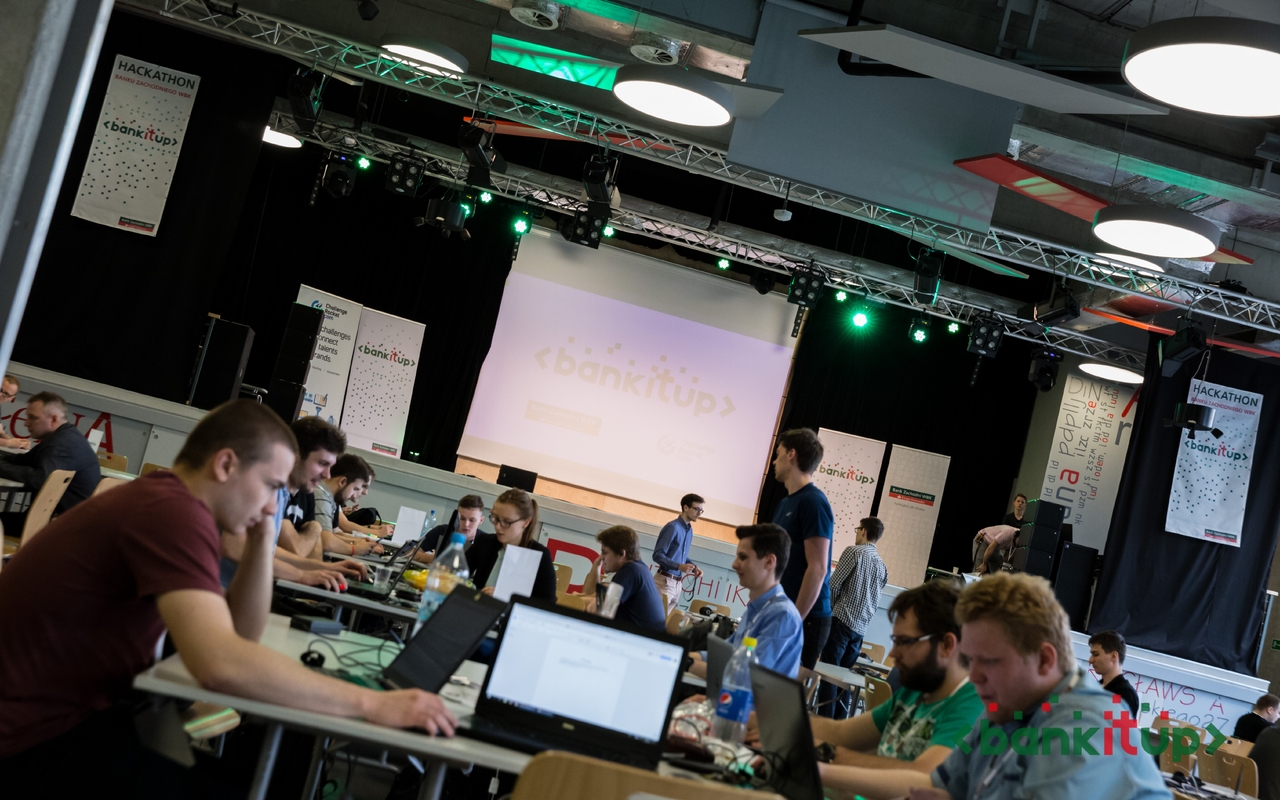 source: Santander Group
What's after the Big Data hackathon?
The Public Vote took place between 17th of April and 6th of May, 1597 votes had been cast, three selected teams will now continue working on their projects under the watchful eyes of Santander Mentors. The winning team will be announced June 29th, and their prize that's waiting for them is 25.000 PLN, as well as the chance of future collaboration with the bank, be on the lookout for the announcement! The Santander Bank hackathon was filled to the brim with interesting discussions and lectures that were meant to help participants perform better, both in terms of coding as well as presenting their projects. The topics covered were, for example, impact of data science on the modern world, ethics of data management, and best ways of promoting oneself. Not only was the Big Data hackathon an opportunity to challenge oneself trying to win the prize, but also to gain new knowledge and skills at the same time. It was a valuable experience for all parties, not only the participants, but also the organizers themselves.
Here at ChallengeRocket.com we organize a lot events similar to this Santander Bank hackathon! Online and on-site challenges are our passion. If you have an idea for one such event we will make it a reality! Let's get in touch, we're happy to work with you.